The kitchen is always one of the messiest places in a home. You will often find clutter in the form of old kitchen tools, defective appliances, and sometimes, even out-of-date food items. Thus, the kitchen has become one of the most challenging areas in the house to pack up for a move. 
And so, most people hire professional packers and movers to handle the packing up of their kitchen. However, if you are not planning on doing this, you should know that you've got a long road ahead of you. 
Fortunately,  there are many things to ease the burden off of you. To help you out, we've come up with a quick guide to make the task of packing your kitchen for an upcoming house move easy and hassle-free. 
What Could Happen If I Skip On Hiring A Removals Company?
Before anything else, though, you must understand exactly what skipping on hiring a removals company entails. Here are some things that could happen when you choose not to hire professionals for your house move:
The Entire Moving Process Will Take Longer
Without an experienced mover on the job, your moving process will take longer to complete. Packing up your kitchen might even take twice the usual amount of time a professional would finish the job.
You also wouldn't have the proper equipment to make the move as efficient as possible, which means you'll probably have to do everything the long way. 
Your Belongings Could Get Damaged
Aside from possibly wasting some time, not having the proper house removal equipment and experience may also lead to your most valuable kitchen appliances and furniture getting damaged. Executing this house move by yourself may also lead to property damage. 
Can you imagine nicking the paint on the wall while dragging the fridge to the rental moving van sitting in the driveway or scratching the hardwood floors while trying to get the dining table out towards the front lawn? Yikes!
There Is Higher Risk For Injuries
Packing and moving your kitchen items yourself also exposes you to more opportunities for moving-related injuries. Such injuries are often brought about by improper lifting techniques and disregard for proper moving protocol. So, if you are planning on packing and moving your kitchen appliances and furniture by yourself, you may want to consider reading up on some safety tips for a DIY house move. 
Extreme Stress And Frustration Will Be Inevitable
The moving process is already stressful and frustrating as it is. Choosing to pack and move the items in your kitchen by yourself will not make it any easier. After all, you will have to worry about a few things, including:
Finding friends or family to help you conduct the move. 

Your belongings possibly getting damaged in the process. 

Going over-budget on packing materials 

Getting everything packed and moved on time. 
However, the presence of a removal company will ease this stress and frustration even just a little bit!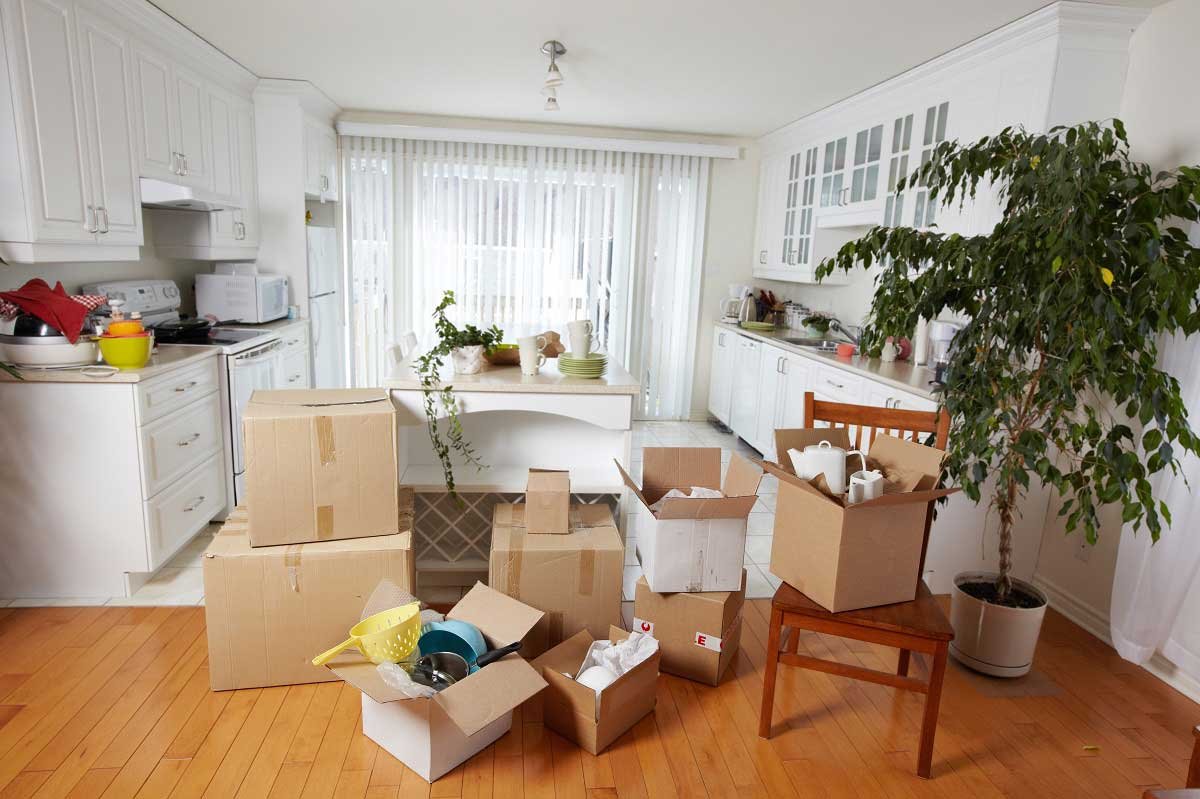 How To Make Packing Your Kitchen For An Upcoming House Move Easy
Now that you've got an idea of what to expect when you are packing up your kitchen without the help and guidance of professionals, you may begin the actual process! To make it much easier, here are some tips you should remember:
Get Organized
The first thing you will need to do is come up with a plan. Make a timetable to determine how much time you want to dedicate to packing up your kitchen. You may also take this time to identify what tasks you will need to accomplish beforehand.
It will also be best for you to determine how you will be making use of the kitchen during this time. Will you be ordering in, or will you still be cooking throughout the process? If it is the latter, meal prep and planning is something you will want to do during this time! 
Moreover, it is also best to identify which items are essential for you to leave unpacked until the last possible minute. What type of cooking utensils will you need? How about food containers? Do you need to set aside some plates and flatware, or will you be using disposable dinnerware for the duration of the packing and moving process? Should you leave the coffee maker out?
Have The Necessary Packing Materials Ready
It will also be ideal to have the basic but high-quality packing materials handy and accessible before you actually begin packing your kitchen items. Some things you will want to have ready are the following:
Cardboard boxes

Plastic film, packing paper, or and bubble wrap

Tape (Packing tape, paper tape, clear tape)

Packing peanuts or any alternative

Cutters/Scissors
Having these items on hand can help you ensure that everything is executed within your desired timeframe. After all, you won't have to waste time going back and forth every time you need some tools and materials. 
Declutter
To help make the task at hand much easier, make sure to go through your belongings and identify which items you no longer want or need. Depending on their condition, you may either sell, donate, or throw out these items.
By decluttering before packing, you will not have to worry about taking too much time packing or about having to pack too many items. Moreover, decluttering will also affect the number of packing materials and size of moving van you need. Therefore, it is safe to say that decluttering may be able to help you minimise your moving costs. 
Have An Efficient Packing System
It would also be wise for you to come up with a system that will make the task of packing as easy as possible. As a suggestion, here's a packing process you may want to consider:
Set aside your kitchen essentials and anything you will still need while the packing process is ongoing.

Begin by packing the items you use the least. This will probably include special serving dishes, small kitchen appliances, cookbooks, extra dish towels and oven mitts, baking utensils, etc.

Clear out your drawers and shelves and pack up their contents.

Pack up your pots and pans, dishes, flatware, glasses and mugs, and appliances in that specific order. 
Label Everything Properly
Lastly, once everything has been boxed and packed up, do not forget to label each box or container. This will make it easier for you to find and unpack stuff in your new kitchen later on. 
Moreover, make sure to indicate if your boxes contain fragile or breakable items. 
Pro Tips To Packing Up Your Kitchen
Here are some tips you may find useful when packing up your kitchen:
Food Items
For spices and any type of food in a glass container, wrap each piece separately with packing paper. Meanwhile, put all your perishables in a cooler and store unopened non-perishables in a medium box or large bag. 
Also, go through your pantry, food cupboard, and fridge for food items that are past their expiration date. You will want to throw these items out to make sure they are not mistakenly packed or consumed. For sealed, non-expired food items that you no longer want, you may choose to donate them to a food bank instead.
If you are moving somewhere far away, it would be best to consume or dispose of any perishables beforehand instead. The last thing you want is for them to go bad, after all. 
Cutleries
Go through your silverware and make sure to sort them by kind. You will then want to tie or wrap them together to make sure nothing goes missing. Doing this will also ensure that your silverware does not damage other items in the box they are packed into. 
As an extra precaution, you may pack your cutleries in a small, sturdy box instead. Do not forget to seal the box with tape. 
Dinnerware
For dishes, bowls, and the like, all you will have to do is make sure these items are stacked in the box with protective layers between each one. These protective layers may come in the form of bubble wrap, cardboard, or even towels and linen. 
Mugs and Glasses
For breakable drinking glasses and mugs, you will want to make sure everything is individually covered in both packing paper and bubble wrap before being put into a cardboard box. \
It is also vital for you to make sure there is no room for movement or any type of vibration that may cause these items to break in the process. Hence, make sure to fill all the empty spaces within the box with either packing peanuts or crumpled pieces of paper. 
Pots and Pans
For these items, make sure to find a box wherein your largest pan or pot will fill horizontally and diagonally. Once you have found the box for the job, all you will have to do is stack your pots and pans on top of the other before placing them in the box. 
Meanwhile, for any glass or ceramic lids, wrap them tightly before stacking them between the handles of your cookware.
Appliances
For any large appliances like the fridge or the dishwasher, you will want to make sure they are clean and ready for transport at least 24 hours ahead. Meanwhile, most small kitchen appliances are best re-packed into their original boxes or something similar in size. 
For items that need to be disassembled, make sure to consult the user manual. Meanwhile, if you are dealing with items connected to the gas line like the stove, you will want to make sure to hire a professional to help you out. Find a gas engineer or plumber who can help you safely uninstall and prepare your gas appliances for the move.
Ready To Pack Your Kitchen Up?
So, are you ready to pack your kitchen without the help of a removals company? If so, make sure to consult this guide every step of the way!
Meanwhile, if you think you will need a professional removal company to help you out, do not hesitate to seek help as soon as possible! Also, compare more than a couple of removals companies to ensure that you are getting the best moving company deals possible!