Who Is Ellen Degeneres?
Ellen Degeneres is a famous American producer, writer, TV host, comedian, and actor. She is best known for the sitcom, "Ellen," from 1994 to 1998 and her own talk show, "The Ellen Degeneres Show," since 2003.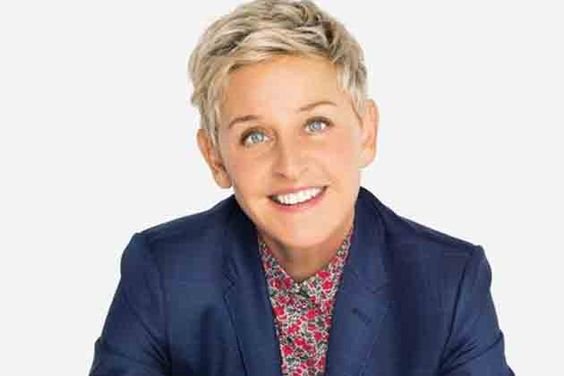 Personal Details
Celebrity Name:

Ellen DeGeneres

Full Name:

Ellen Lee DeGeneres

Gender:

Female

Birth Date:

January 26, 1958

Birth Place:

Metairie, Louisiana, US

Age:

62

Height:

1.71m

Weight:

59 kilos

Nationality:

American

Sexual Orientation:

Lesbian

Status:

Married

Wife:

Portia de Rossi, married since 2008

Children:

None

Profession:

American producer, writer, TV host, comedian, and actor

Net Worth:

$500 million
Early Life
Ellen Lee DeGeneres was born on January 26, 1958, in Metairie, Louisiana, to parents Elliott Everett DeGeneres and Elizabeth Jane. Her father was an insurance agent, while her mother is a speech therapist. She has one sibling, Vance, a producer and musician.
Ellen is of Irish, English, and German descent and was brought up as a Christian Scientist. In 1973, her parents broke things off and were officially divorced the next year. After a few years, her mother remarried a salesman named Roy Gruessendorf. Ellen moved to Atlanta, Texas with her mother and stepfather, while Vance remained with their father.
When Ellen was 15 or 16 years of age, she was molested and abused by her stepfather. In May 1976, she graduated high school in the Atlanta High School. She went to New Orleans to go to the University of New Orleans, where she took up the major in communication studies.
Just after one semester, Ellen dropped out of college and went to work in a law firm with Laura Gillen, a cousin of hers. Among her early jobs include being a waitress, bartender, hostess, and a house painter. She connects many of her childhood and work experiences in her comedic job.
Personal Life
In 1997, Ellen revealed that she was a lesbian, which triggered interests in US tabloids. Her mother, who is fondly called as Betty, claimed that she was shocked at first by the revelation of her daughter. However, she eventually became one of the most passionate and strongest supporters of Ellen.
In that same year, Ellen had a relationship with Anne Heche, an actress, that lasted for three years. From 2000 up to 2004, she kept a close relationship with Alexandra Hedison, a photographer, director, and actress.
Since 2004, Ellen is with Portia de Rossi. They became engaged and got married in 2008 at their house in Beverly Hills. On August 6th, 2010, Portia passed a petition to change her name legally to Portia Lee James DeGeneres. It was granted on September 23rd, 2010.
Career
Ellen began her career as a stand-up comedian sometime in 1981. She performed in coffee houses and clubs where her fame significantly grew. She eventually became one of the funniest persons in the US.
She starred in various films, such as "Finding Dory" in 2016, "Unity" in 2014, "Finding Nemo," "The Love Letter," "Mr. Wrong," and "The Coneheads."
Moreover, Ellen appeared in several TV shows, like "Ellen," "Open House," "The Big Bang Theory," "Sesame Street," "Ellen DeGeneres Here and Now," " The Ellen Show," and "Mad About You."
She was also the host of the 53rd, 55th, and 57th Primetime Emmy Awards, 38th & 39th Annual Grammy Awards, and the 79th & 86th Academy Awards.
Awards and Achievements
In her career, Ellen has received around 143 nominations and 76 awards. Some of her winnings include Hollywood Walk of Fame, Presidential Medal of Freedom, 9 Teen Choice Awards, 20 People's Choice Awards, 29 Daytime Emmy Awards, and 1 Primetime Emmy Award.
Total Net Worth 2020
To date, Ellen DeGeneres is known to have a total net worth of $500 million. She is included in the top list of the 100 highest-paid celebrities across the globe. She makes most of her money from her talk show.
She also makes a lot of money from her companies – Ellen Digital Ventures and A Very Good Production.