Marshall Bruce Mathers III or is famously known as 'Eminem' is an American Rap Artist, Musician, Songwriter, Record Producer, and Film Producer. 
Personal Details
Stage Name: Eminem
Full Name: Marshall Bruce Mathers III
Gender: Male
Birthday: October 17, 1972
Place of Origin: Missouri, United States
Age: 48
Height: 5'8"
Nationality: American 
Sexual Orientation: Straight Male
Status: Single
Spouse: None
Profession: Rap Artist, Musician, Songwriter, Record Producer, and Film Producer
Total Net Worth: $230 million
Personal Life
Marshall Bruce Mathers III was born on the 17th of October, 1972, in the City of St. Joseph, Missouri, United States. He was the only child of Deborah Rae and Marshall Bruce Mathers, Jr.
During the time of his birth, his mother Deborah almost died during her 73-hour labor. Before his parents decide to separate, they both play in a band called 'Daddy Warbucks', in Ramada Inns, along the border of Dakota and Montana. 
Eminem is a descendant of Scottish, English, German, German Swiss, Luxembourgian, and Polish ancestry. 
He grew up with his mother and shuttled their way along Michigan and Missouri and they rarely stay in one house for more than one or two years, living together with other family members. While they were in Missouri, they have also stayed in Savannah, Kansas City, and St. Joseph. 
As a teenager, Eminem would write letters to his father, only to have it received back as marked, 'return to sender'.
He is described as a happy child and a little bit of a loner by his friends and relatives. He also experienced being bullied that almost severely injured his head during an assault. It was a challenge for him growing up as he and his mom lived in a black community neighborhood. He was also beaten up several times by black youths. 
Before Eminem discovered Hip-hop, he was interested in storytelling, and that has inspired him to become a comic book artist.
He started rapping at the age of 14 with his friend Mike Ruby during their highschool and adapted the names 'Manix' and 'M&M', which then his initials evolved to his famously known stage name 'Eminem'. They will then sneak out into Osborn High School with Mike to have a lunchroom freestyle rap battle. 
Eminem married his girlfriend Kim Scott. Their relationship started in highschool when Kim and her twin sister Dawn had run away from home and moved in with Eminem. After that, both Kim and Eminem had an on and off relationship. They were married in 1999, divorced in 2001, and married again in 2006, divorced again in 2006. 
He has one daughter with Kim Scott, named 'Hailie Jade Mathers' and also has custody of Kim's twin sister's daughter 'Alaina Marie Mathers', and Kim's daughter with another relationship, 'Whitney Scott Mathers'. 
Career
Growing up in a neighborhood that is cultured with the tradition of a black community, Eminem can already see and feel the influence at an early age.
He started engaging in rap music during his highschool years together with his friends. They went out during lunch breaks and visited other schools to freestyle rap music and rap battles. 
His formal career started in the 1988 scene to 1997, using the stage name of 'MC Double M'. He started his first rap group called 'New Jacks' where he created a demo tape together with DJ Butter Fingers.
They went on, and in 1989, they joined the Bassmint Productions and in 1992 changed their group name to Soul Intent together with rap artist Proof and other of his childhood friends. 
It was in the same year, in 1992 that he made his first music video appearance in a song 'Do-Da-Dippity'. 
Rising to Stardom
Eminem started to get more attention in his career when he created the 'Slim Shady', a song with a violent and sadistic alter ego. With this character, Eminem was able to vent out his anger, frustrations, expression, drugs, rape, and murder. 
His major debut album Slim Shady EP was recorded in 1997, by Web Entertainment. It follows theme music of violence, mental instability, sexual acts, and drugs. He also engaged songs with lyrics about poverty, marital, and family challenges. 
Because of his unique approach to music, he was featured in a Hip Hop magazine called 'The Source', and described as 'Unsigned Hype'. 
In 1997, Eminem competed in a Rap Olympics which is an annual, national-level rap battle competition, and won second place. It was then that an intern from Interscope Records asked for a copy of Eminem's demo track and played it with the company CEO Jimmy Lovin and company producer Dr. Dre. 
Career Highlights
Eminem's career highlight is when he created Slim Shady and started on a journey recorded with Dr. Dre. 
From 1999 to 2003, He released his albums The Eminem Show and The Marshall Mathers LP. 
In continuation with the years and up to the present time, Eminem showed a formidable stand on his music genre and progressed with many recognitions from other rap artists. 
He was largely accepted in the black community because of his rap talent. 
Awards and Nominations
All throughout his career, Eminem has received several nominations and awards. Here are some of his career achievements.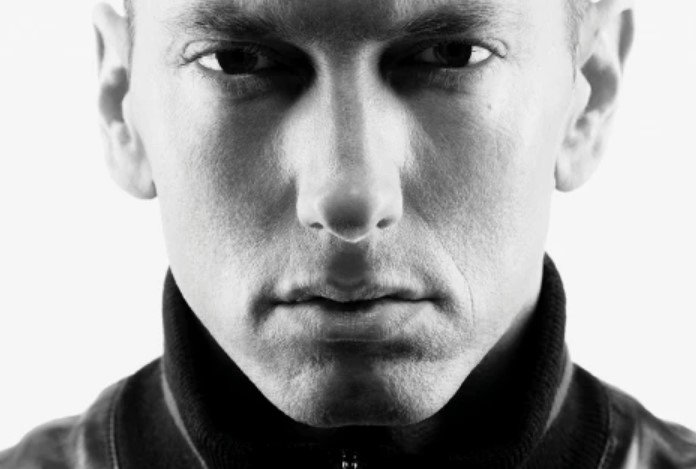 He has received nominations in American Music Awards, ARIA Music Awards, BET Awards, Black Reel Awards, Chicago Film Critics Association Awards, Denmark GAFFA Awards, Golden Globe Awards, iHeartRadio Music Awards, MTV Asia Awards, Italian MTV Awards, NAACP Image Awards, NRJ Music Awards, People's Choice Awards, Satellite Awards, and several other more. 
He has won awards in YouTube Music Awards, World Music Awards, Vibe Magazine Special Awards, Teen Choice Awards, Swiss Music Awards, Soul Train Music Awards, People's Choice Awards, MTV Video Music Awards, MTV Europe Music Awards, MOBO Awards, Mnet Asian Music Awards, Grammy Awards, ECHO Awards, Brit Awards, BMI Awards, American Music Awards, Academy Awards, and several other more. 
Eminem Total Net Worth
Eminem is a well known and widely celebrated artist among his community, fans, and critics. He is skillful and has made a name for himself as a rap artist, songwriter, musician, record producer, and film producer. 
He has a total net worth of $230 million.