Wake up to the smell and taste of a jam-filled croissant paired with smooth and rich hot cocoa, grab a waffle for dessert after lunch, eat some sweets as in-between meal choice, and finish up the day with a piece of chocolate cake. In summary, this is what the life of a person with a sweet tooth looks like. And as sweet as it sounds, wait till you see how easy it is to pick presents for them!
Unlike brainstorming gifts for others, you'd actually come to enjoy this shopping experience and you won't even have to put too much thought into it, or fret if you're a procrastinator. There are various gifts you can get a sweets-loving friend, so don't be surprised if you end up buying something for yourself too as this blog post is sure to make you crave for something delicious!
In a world of sweet and mouth-watering gift delights, here are some of our suggestions:
Fruit Bouquets
What can be better than surprising them with a bouquet of flowers? Tasty and refreshing fruit bouquets dipped in chocolate! No matter what the occasion is, be it a birthday, an anniversary, a holiday, or just a simple gesture to say thank you and let them know you care, your sweet tooth recipients are sure to love these.
You can complement them with a drink of your choice, could be bubbly, could be gin or craft beer; or something non-alcoholic like coffee and tea. Don't worry if the person you're buying this treat for is vegan, has a gluten-free diet, or has an allergy to certain nuts and fruits, as there's a vast array of ingredients to choose from for your bouquet.
For instance, if they're allergic to nuts, you can get them a fruit bouquet made of pineapple. The best thing, well besides the taste, is the fact there's same-day delivery so they truly arrive fresh at the recipient's doorstep.
A Doughnut Box
In case you're dealing with someone who's got an even sweeter tooth and needs something other than fruits, you could turn to doughnuts. For anyone with a serious obsession with the round doughy delights, gift boxes full of doughnuts in various tastes, from sprinkled with crunchy caramel pearls, to dipped in different chocs (think Belgian milk chocolate!) and filled with different jams, are a must.
Same as with the fruit bouquets, you can easily find doughnuts bouquets that are neatly wrapped if for you the box doesn't deliver the wow-effect that much. Such bite-sized doughnuts are a treat for the eyes too, that's how cute they are! Finish off with a plush toy of your choice for the extra dose of sweetness, and you've got the perfect gift.
A Survival Kit
Of course, we aren't referring to a kit with handy pocket tools like Leatherman for outdoor enthusiasts, but rather a sweet survival kit full of all their favourite snacks! For this one, you have to know the recipient well, especially their likes and dislikes of what they find to be the ultimate tasty treats.
Before you start compiling the kit that would come in handy when those sugary cravings kick in, do your research, spy them on social media if you must, to be sure on the candy and snacks they can't do without to make it through the daily stress and tasks.
A Healthy Kit
Choosing a gift for that person with a sweet tooth who keeps saying it's time for a change is your chance to assist them in removing sugar from the diet by getting them healthy sweets that contain natural sugar substitutes like stevia and xylitol.
Want to make it fun? Buy them their own supply of stevia or xylitol, so they can get their cooking mood on, find a bunch of recipes they can try out, and see for themselves that natural doesn't always have to mean sans sweetness. Another way of giving them a hand in the struggle against the cravings is to avoid giving them any food gifts and surprise them with some item they can use at home in the shape of their favourite delicacies.
What do you think of pillows and rugs with doughnuts, macaron stickers, ice cream USB, or chocolate prints on mugs, T-shirts and artworks?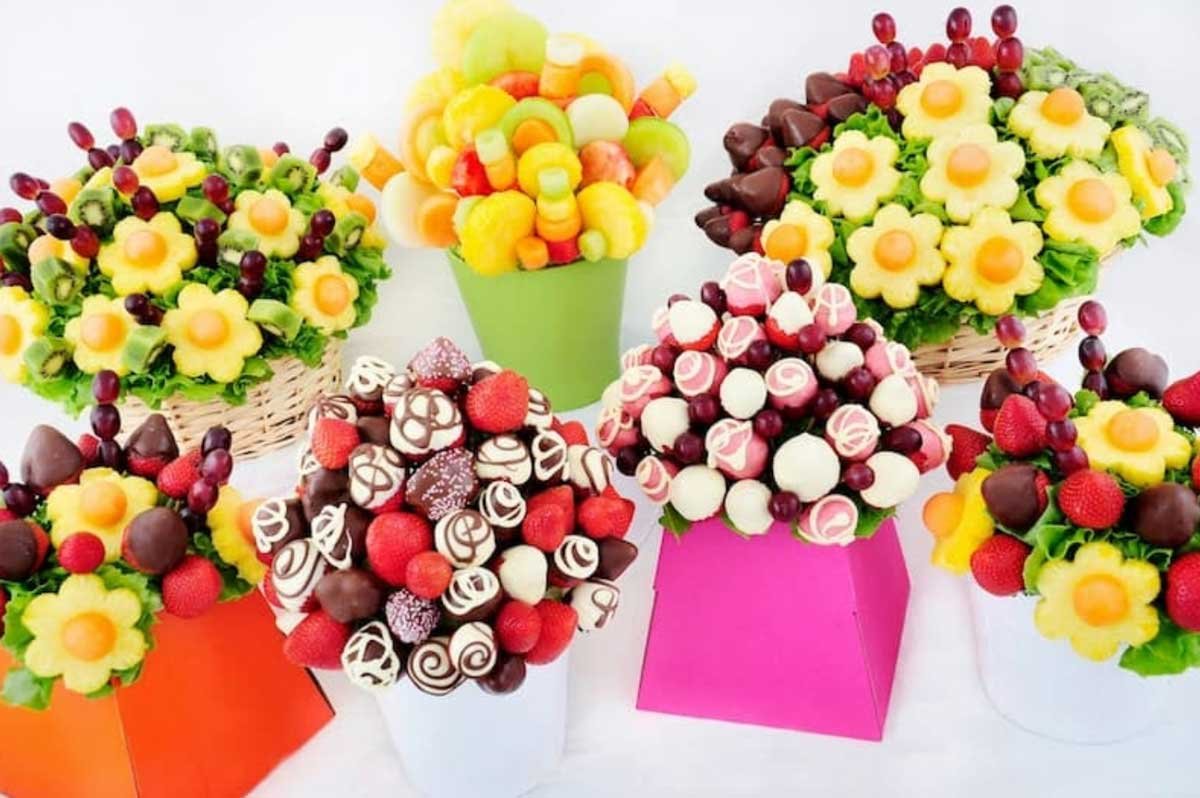 A Movie Night Package
Now that many cinemas have remained closed due to the COVID-19 pandemics, movie nights have become more comfortable as they moved to the abodes.
You can make their "Netflix and Chill" more special by getting them a package consisting of chocolates, bonbons and crunchy popcorn covered in caramel they can indulge in as they watch a new rom-com or need their energy recharged after all the fear from watching a horror movie.
A Care Package
Can you think of a better idea to cheer up a sick friend and send them a "get well" message than by sending them a box full of chocolaty treats? Though there are other types of sweets, it's chocolate that's known to improve one's mood.
Translation, you might even help your friend out with a speedy recovery as the delicacies, especially those with dark chocolate reduce stress and inflammation. The same goes for showing off your support to a beloved person who happens to be going through a rough patch.
"Around the World" Sweets Package
The last year was tough on all of us, and frequent travellers found it particularly rough to deal with. Though they may not have gotten as much chance to pack up and set out to explore new places, you can bring the world to them by bringing them new and tasty treats they never even dreamed of trying.
This includes fruit bouquets and gift boxes that consist of exotic flavours and ingredients from various locations. The same goes for the complimentary drinks you can boost the bouquets and boxes with. How do gin gift sets made of Australian botanicals sound to you?
A Treat for Cocoa Lovers
Okay, cocoa on its own is the ultimate sweetness you can add to brighten any day, but you can take it up a notch for a cocoa lover by buying them a box of marshmallows. Besides finding them in a variety of different flavours, you can also find artisanal as a special touch and give them a hint on the many ways they can use them apart from dipping them in the cup full of smooth cocoa.
Along with being used for s'mores, ice cream sandwiches, snack and cereal bars, and cakes, there are some other creative and surprising ways marshmallows can be used.