One thing that people fear is satanic people. They are believed to be able to cause harm and even death and go unpunished. Pazuzu Algarad is one Satanist known to have buried bodies right behind his own house for horrors.
The man had two fiances who were key contributors to the murder he committed.  His face was full of tattoos and his mouth full of teeth. Animal sacrifices were part of his routine, and he was famous for not taking baths. 
One thing that you would not love is to live next to a neighbor like Pazuzu. He proclaimed himself as a Satanist and survived by drinking blood. Having orgies at his house was a routine. The nightmare ended after he got arrested for murder charges.
Pazuzu Algarad
Pazuzu was born on 1978 12th august in San Francisco in California. Very little is known about his early life as he lived with his parents. At some point, they relocated to Clemmons in North Carolina with the mother.
The director who prepared the documentary admits that getting information about Pazuzu was a hard night to crack. Patricia Gillespie, the producer of 'the devil you know,' says that Pazuzu kept re-inventing stories relating to childhood and development. 
He told some of the stores that he was from Iraq and that his waster was a high priest. Anyone who knew him as a child understood that he was a little bit emotional. His mental illness proved itself at a very early age, where he became an alcoholic and a drug user.
Her mother began addressing the mental issues of his son at a very early stage of life. He was diagnosed with agoraphobia and schizophrenia and other mental illnesses. The deterioration of his mental health dominated after his mother got broke and could not afford medical care.
In an interview for the release of 'The Devil you Know' documentary admits that his son wasn't an angel. He was a bad man, and any name that people called was indeed true. It was in 2002 when he chose to change his name to Pazuzu.  The name belonged to an Assyrian  demon featured in the movie 'The Exorcist.' 
Society outcast
It is normal to have people with unaccepted behaviors as outcasts in society. Pazuzu chose to make himself an outcast in society by filling his mouth with teeth and covering his face with tattoos. 
He claimed to have control over the weather and often made animal sacrifices. One thing that surprised the psychiatrists is that he did not know bather more than once in a year. He also never brushed, claiming that his body's defense ability would lower hence prone to diseases and infection.
Such behavior was very provoking, mostly that his society was of Christians. His action proved to be rebellious. One thing that happened is that there were people who got attracted to his lifestyle.
He attracted Krystal Matlock and Amber Burch, who became frequent visitors to his home.
House of horror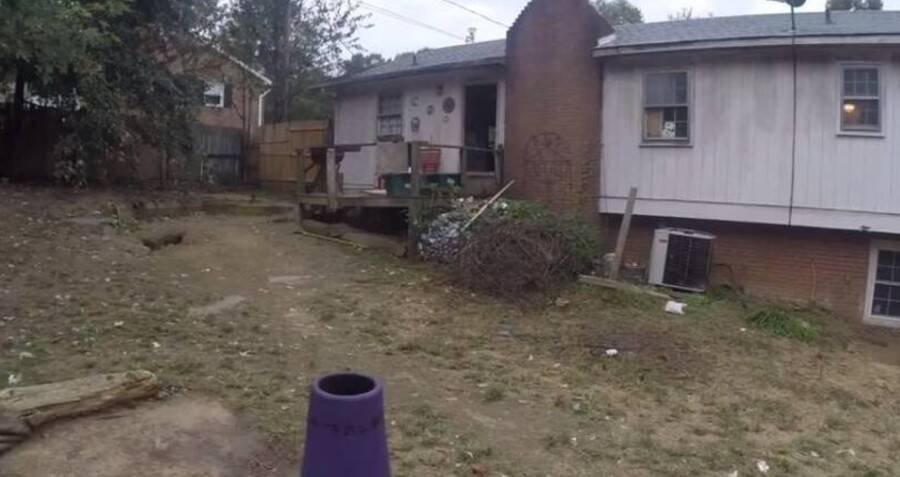 Pazuzu attracted the society's outcasts and accepted to his home. He didn't care what they did to the extent that his house became horrific. His habit of consuming birds' blood, making rabbit sacrifices, staging orgies, and taking drugs made his house full of dirt and bones.
The floor was full of garbage with bones, while the walls had blood. Satanic paintings and the smell of decay dominated the house. 
Bodies in the backyard
In 2010 October, Pazuzu got charged with involuntary manslaughter. The same year in September, he got accused of hindering investigations and concealing information to investigators. He kept a suspect of Emmrick Chandler's death. His body was found in Yadkin County.
Another incident happened in 2014 October when he got a charge with Amber Burch. His backyard had skeletal remains. The remains were of men who went missing in 2009. His other fiancé got a charge too for assisting the burial of Wetzer, who was killed by Pazuzu.
The house was seen to be unsafe and later demolished.  There was some happiness with neighbors when the house got demolished.
Pazuzu's Suicide and aftermath
The death of Pazuzu Algarad occurred in 2016, on October 28th, at the central prison in Raleigh-North, Carolina. He used an unknown instrument to make a deep cut on his left arm. As a result of bleeding, he lost his life and was ruled to be a suicide case.
Amber pleaded guilty for murder in the 2017 march on a second degree. They did armed robbery that ended up in murder. Tommy, the deceased, was together with the prosecuted, where he decided to shoot his head twice.
The sentence of Burch was a minimum of 30 years and additional eight months in prison. The maximum period for her imprisonment was 39 years and two months.
Krystal was also guilty of conspiracy for the first degree of murder and sentenced to 3 years and two months. The maximum of her imprisonment was four years and ten months.