A family reunion is a wonderful way to catch up with those relatives we adore but don't see enough of due to distance and commitments like work and school. Finding a central location can be tough but choosing a destination like Key West makes sense.
It's easy to get to from major airports across the country, and even if you choose to drive there, it's just three hours south of Miami. Key West offers a wide variety of activities for all age groups and activity levels. Everyone who attends your reunion, from your kids and nieces and nephews to you and your siblings and cousins to your parents, aunts, uncles, and grandparents can enjoy the trip.
Choose Accommodations that Suit Everyone's Needs
Barbary Beach House Key West features well-appointed guest rooms with balconies that overlook the courtyard pool. Some rooms offer a minimalist kitchenette. On-site dining, a lounge and pool-side bar, and gathering areas make this a wonderful option for families seeking quality time.
Mid-century design elements and lots of natural light and earthy colors provide a familiar and comforting refuge. Amenities include a full fitness center and pet-friendly policies for guests traveling with furry friends.
Enjoy the Natural Beaty of Key West
You have your pick of four public beaches in Key West that are open to all. They're small and cozy, and easily reachable from pretty much anywhere in the city. With white sands, gentle surf, and swaying palm trees, it's like a postcard come to life.
Of particular note is Higgs Beach where dogs are welcome, which is good to know if you travel with your pet. Most of the beaches have limited amenities available but you can rent beach chairs and umbrellas as well as snorkeling gear.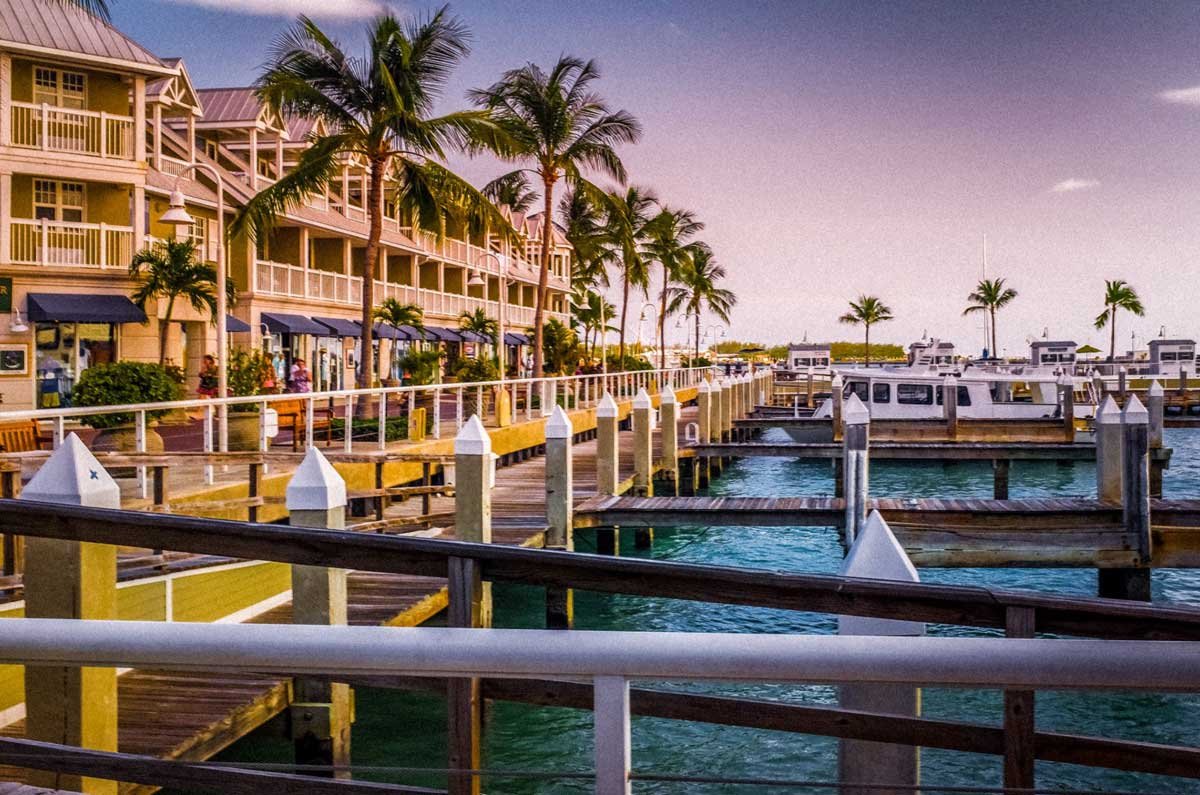 Venture off the beaten path with a trip to nearby Dry Tortugas National Park. Set about 75 miles off of Key West, you'll need to take a ferry to get there. The historic Fort Jefferson sits on the largest of the seven small islands that make up the park. Visitors can go swimming, snorkeling, kayaking, and birdwatching.
There's a small beach and campground that's fully carry-in/carry-out, and reservations are required well in advance for camping. One of the biggest draws of Dry Tortugas is the world-famous snorkeling on coral reefs, shipwrecks, and old naval pilings where you can see abundant fish and other sea creatures.
Exciting Casual Dining Options
You don't need to be a guest of the Southernmost House Mansion to enjoy the outdoor dining at the Seaside Cafe and Bar. With tables located just steps from the shore, you'll be amazed by the views. The menu features creative pizza and seafood dishes with local flair, and the full frozen drink menu is the perfect way to wind down after a long day in the sun. Don't miss the lobster bianca pizza!
While in Key West, you'll of course want to enjoy some of the freshest seafood available, and there's no better place to do that than Eaton Street Seafood Market and Restaurant. You can enjoy their outdoor seating; however, if you're a really large group, their take-out option may be better for you. From grilled lobster roll to conch chowder and chicken tenders, Eaton Street has something for everyone to enjoy on their menu.
One of the things a crowd can usually agree on is pizza as a popular meal choice. Look no further than Duetto's for your choice of pizza pies. They offer more than two dozen specialty pies plus the traditional cheese pizza. Save room for dessert, though–Duetto's homemade gelato is the ideal ending to your hand-tossed pizza meal.
Group Activities for All
When you're looking for an activity that everyone can enjoy, book a fishing charter with All In Fishing Charters. It's a great way for generations to bond. There's minimal walking involved but you can still get great views of Key West from the water. Choose from among wreck, deep water, and reef fishing.
Depending on the time of year, the types of fish available can vary; however, talking to your charter boat team when booking your reservations can help you tailor your trip to your preferences. And when you make the catch of the day, book a table at Dante's; their cook-your-catch menu option allows you to bring the fish you caught and have it expertly prepared to share with your family.
Get close to nature with mangrove tours by kayak. As you glide past these statuesque trees, you'll also get an education about the role they play in the ecosystem and why they're so important. Among the sea life you'll discover are birds, crabs, and other small animals.
Key West is a terrific destination for a family reunion. It's convenient to get there and the array of available activities means there's something for everyone. The weather is typically calm and sunny, and the island is small enough that everything, from beach access to fine dining and adventure fishing, is within convenient reach. The next time you're planning a shared trip, put Key West at the top of your list to ensure everyone has a good time.