Once you have picked your own wedding gown, the next important step is to choose what your bridal party will be wearing.  Choosing your bridesmaids' dresses is pretty exciting and yet daunting at the same time.  This is because you are dealing with different body shapes, sizes, style preferences and budgets.  It can prove to be a little bit too much to handle.
Your bridesmaids are the women who are important in your life. They are the ones who have been through it all with you, through good times and bad times.  Your girls are an integral part of making your big day goes well.  They will also be by your side, sharing the most special day in your life from start till finish.
You would want your favorite ladies to have an experience that they will enjoy and you want to make them feel happy and special. So naturally, it is important that you show your gal pals how much they mean to you by choosing the bridesmaid dresses that they would love to wear.
There are many beautiful and flattering dresses out there but how do you make sure that they will love what you picked out for them?  Here are a few tips on what to consider:-
Ask Your Bridesmaids What They Like
It is helpful to know what your best friends are comfortable wearing.  If they prefer something modest or fitting or a simple dress. This is a good insight that help you make the best choice in selecting the bridesmaid dresses.
Think about what they usually wear 
A good way to measure what your gal pals will be happy wearing on your wedding day is to consider what they wear on normal days.  Everyone has their own unique styles and very likely you will be able to find options that they will like.
Give Your Bridesmaids Choices
If you are not keen with the idea of having your bridal party pick their own dresses, you can still allow them to be involve in the selection process. The best way is to narrow down a few options to three or five dresses and see which ones they prefer.
Searching for the perfect bridesmaid dresses that your besties would look beautiful in, be able to hit the dance floor comfortably and also a dress that they can wear again can be a rather stressful experience. No two body shapes will look the same so it is a good idea to look for dresses that can complement everyone. If you are not sure what are the bridesmaid dress trends to look out for, do read ahead for some tips on how to pick the right ensemble for your best friends.
Mix and Match Bridesmaid Dresses
If you are open to the idea of having a mix and match bridal party, you can give more choices to your ladies and let them choose what works best for their body shapes and preferences.  Mismatched bridesmaid dresses take the drama out of picking the dresses for your bride tribe.
There are many gorgeous dresses with different fabrics, hemlines, styles and colors and having mix and match dresses will allow you to highlight each individual bridesmaid and also make sure that she is wearing a dress that makes her feel great. Apart from that, mismatched bridesmaid dresses feel fresh and modern. They add texture and visual interest to your line-up on your wedding day.
However, if it is not done right, you may end up having a disorganized-looking bridal party instead of a collective one.   In order to pull off this trend beautifully, the first step you have to do is to decide how you want them to look.
Same color different dress – This option is ideal for brides who want everyone in the bridal party to wear the same color dresses and allow options in style and design.  Your bridesmaids can have the freedom of picking out their favorite style that flatter them.
Different Dress Styles and Colors – If you want to go all out with with different bridesmaid dresses, you may incorporate both different designs as well as colors into your bridal party outfit. For this trend, you may also opt to mix neutral dresses with floral bridesmaid dresses.  Just makes sure that you will see the dresses together once you have selected them so that they fit in properly.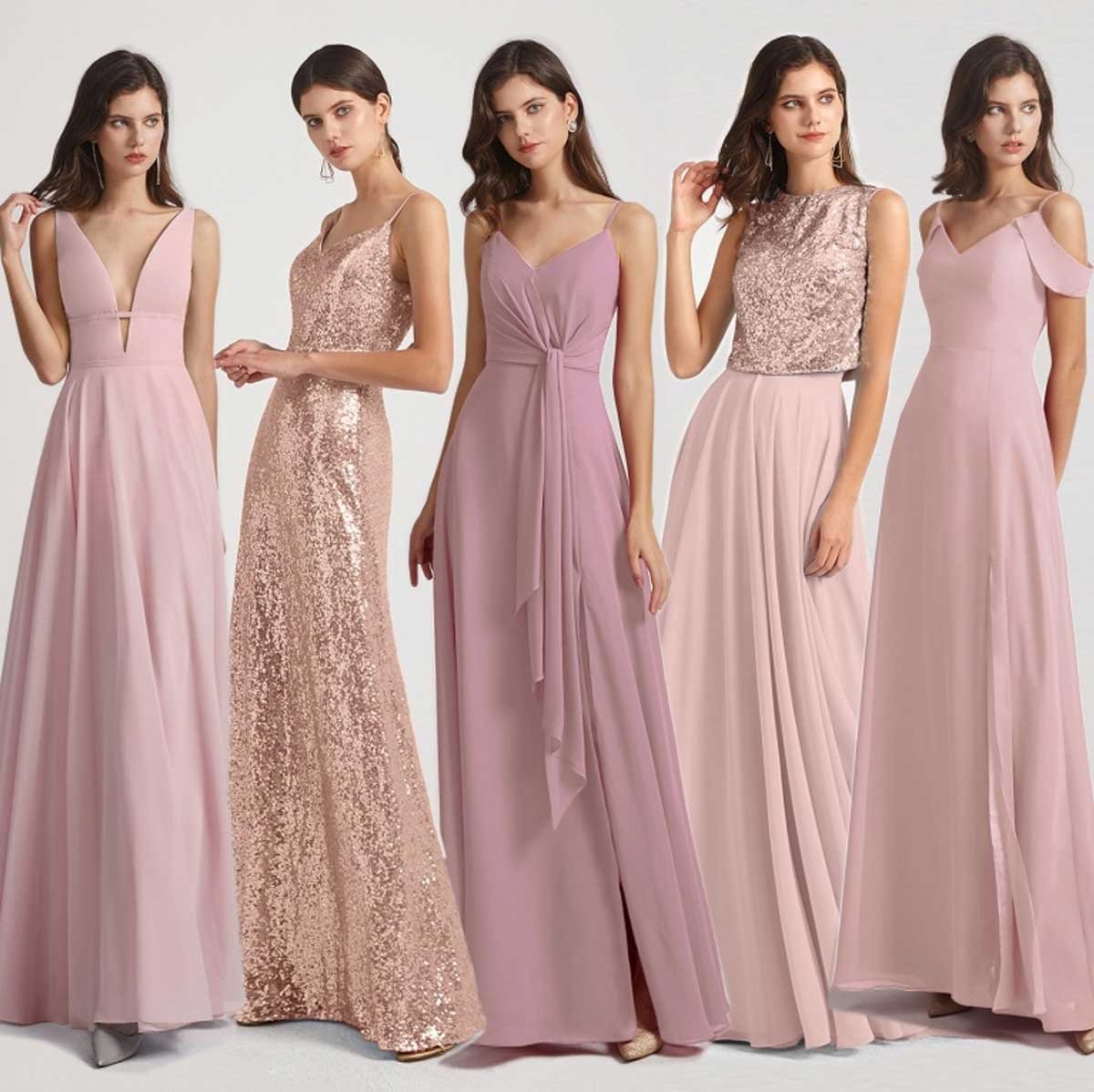 Choose Convertible Bridesmaid Dresses
Another great option to make sure that your bridesmaids are comfortable wearing their dresses is to choose the same convertible dress in the same color. Convertible bridesmaid dresses are very versatile and chic.  These dresses can be styled in many different ways to flatter all sizes and body types.  Convertible bridesmaid dresses are the perfect choice if you want your squad to look cohesive and at the same time, be able to show off their personality.  Your girls will definitely be thrilled to personalize their dresses on your big day.
While having different color, style and silhouettes, it is important to have one item that ties all the looks together. Perhaps the same pair of shoes or hairpiece can do the trick. Statement necklaces or earrings for a uniform accessory look can also be considered.
Choose A-Line Bridesmaid Dresses
If you do not find the mismatched dresses and convertible dresses appealing but would want to pick something else, then you may want to choose a style and cut that is flattering for all body shapes and sizes.  The one dress style that flatters from head to toe is the A-Line silhouette.  It is a classic for a good reason.
The A-line shape is designed to complement all body types by highlighting the waist and gradually widening at the bottom.  An A-line bridesmaid dress with V-neckline will help to elongate the neck which flatters the cleavage.  Choosing a lightweight A-line bridesmaid dress make it a comfortable dress to be worn all day.  A high-low A-line bridesmaid dress is a twist on the classic style if you want something different for your best friends.
Although the wedding is your big day, you would still want your best friends to enjoy the day as they join you at the altar.  It is important that you show your appreciation for their efforts and with the above tips on choosing the bridesmaid dresses, they will definitely appreciate your flexibility.