Do you have the right rainy day outfits that make you look stylish and warm? You may think looking elegant as it rains heavily is scant. However, you can seek sartorial inspiration from fashionistas and celebrities on how to dress to storm-ready outfits.
Although outfits from celebrities and fashionistas may look high-end and overly expensive. You can get similar looks from your boutique store. Shop for rain mac coats here and you get other garbs that can complete your rainy day outfits. Below are 7 rainy day outfits from fashionistas you can try for a flawless look.
Everyone wants to feel cozy on a rainy day. Thus, it is right to kick things off with a sweatsuit for a rainy day look for they will make you look comfy, and you can choose to wear a fitting or oversized one.
Plus, add a playful look with your hairdo by adding space buns and scrunchie. If you are out and about running errands, choose the oversized sweat suit to feel free, warm, and look good in as you gallivant through the streets.
Look like a cool girl around the rainy sits with a wide-leg jeans look and a beret. These tent-like pants are the go-to look now, and every girl should have a pair in their wardrobe.
This does not mean that you keep away all your skinny jeans, but give your wide-legged jeans a try and pair it with chunky footwear. Add a beret as a hair accessory that is a similar color to your top, and you have a lovely overall look.
Trench coat and rain boots 
If you are the type that takes no days off when it comes to style. A statement trench coat and statement rain boots to pair is a winning look on a rainy day. This luxury rainy day look can be styled as an all-black monochrome.
To give it an edgy twist, pair with a tiny bag and some futuristic shades. Also, you can opt to style with basic black tights and colorful statement boots.
The next time it rains, ensure that you pick a look that standouts to predict a colorful mood with a tie and dye look. This look is a colorful splash that you can wear at a party or a girl's day out on a rainy day.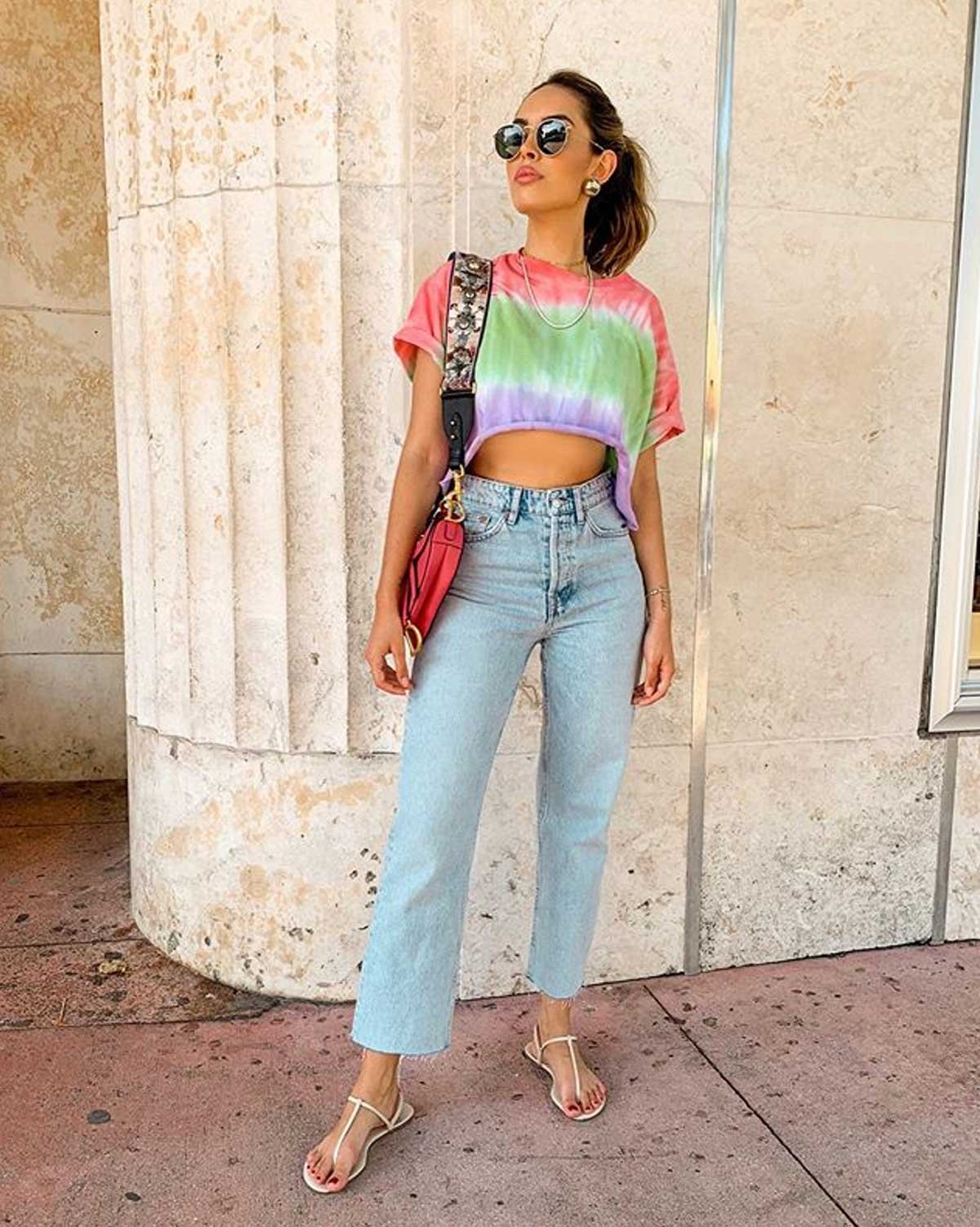 A tie and dye look will make you look like a maximalist with gold chains to style but a stylish one. Besides, this look amps up the color of the day in a bold yet cool move, especially in a day full of gray skies. Add classy shades, and you will earn points for making shades stand out when the sun is nowhere to be found.
Trucker jacket and leggings 
Every girl who loves denim, will always like a denim jacket style. Trucker jacket and leggings are a tried and true combination, an exquisite combo of structured denim and stretchy spandex is one look you can try.
Choose a blue-on-black look and complete it with dangly gold earrings, a dainty chain, and wear a mask as is the norm today. Plus, a boxy jean jacket will add flair to your post-work-out look making you look good as you exit the studio.
Do you want to be the sassy street queen? Choose a puffer jacket and a pair of sweats to step out on a rainy day. When you feel like you cannot stay all day swaddled in a duvet at home as it pours out.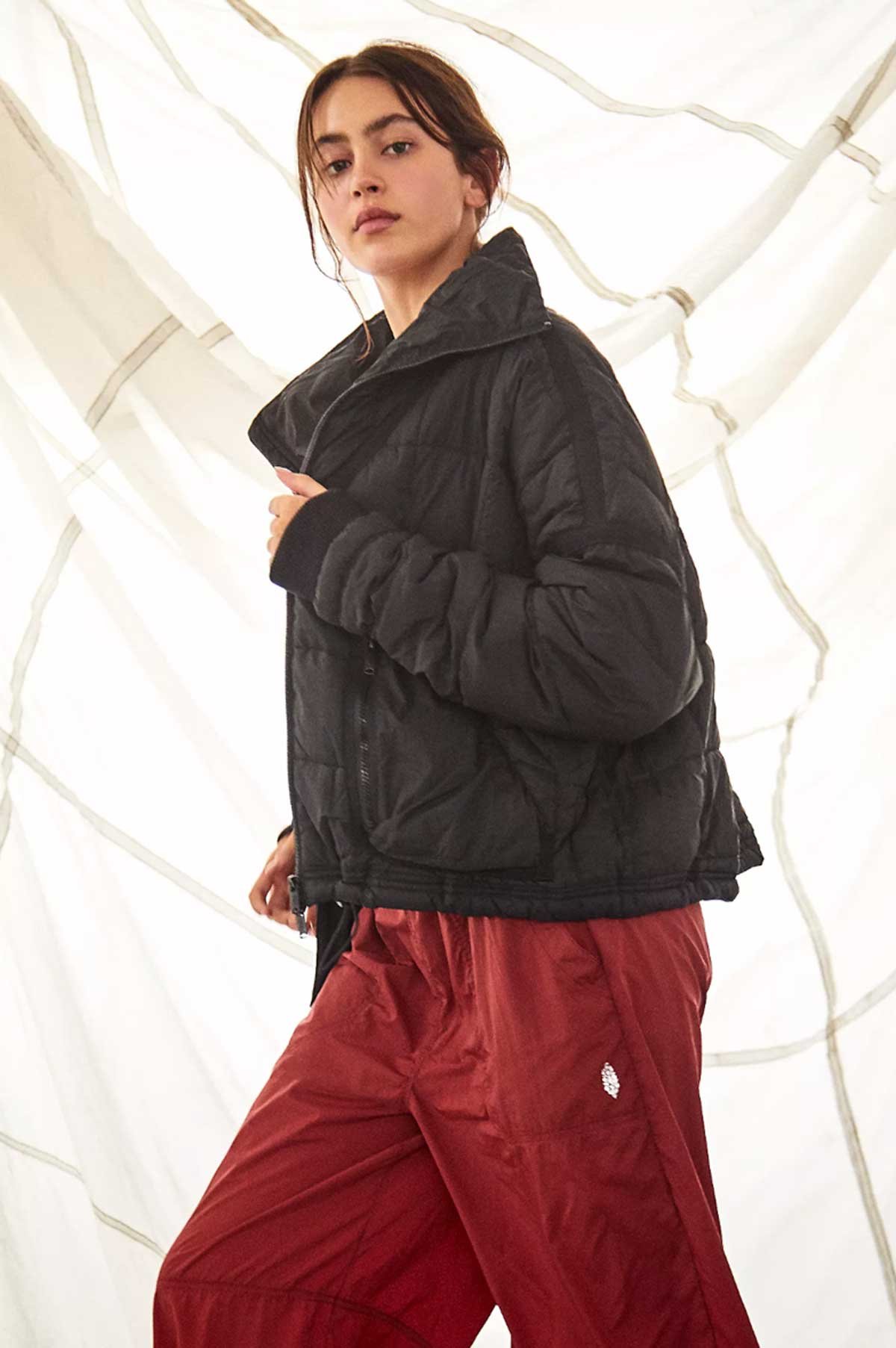 Choose a plush puffer coat as it is the next best piece to a duvet. Stick to the sweats for a street look and choose a pop of color for them and add a small bag to match your look.
Leather coat and knee-high boots
Do not miss an opportunity to pull out your leather knee-high boots when a rainy opportunity calls. Rainy day outfits are most times stack in closets waiting for the rain. Thus, when it starts to pour, throw your hair up, wear some hoops, your leather coat, and your leather knee-high boots to match.