Working with wood, masonry, or metals? Or maybe glass, ceramics, plastics or tiles? You'll need to have the right tools and bits for the job. Drilling holes may seem like a simple task, but having the right power drill bit makes work much easier and faster. The same goes for cutting and finishing accessories. Ideally, you'll want quality bits and tool accessories that are made to last, and not buckle in something more demanding.
Of course, this depends on your application. Not all tools and drill bits are created equal, but for professionals, tradies and DIY enthusiasts specialised products work best. Heavy-duty, everyday use for hours on end requires quality materials and designs. For the occasional use around the house, general-purpose bits and accessories will do the job just fine, until you start to get serious.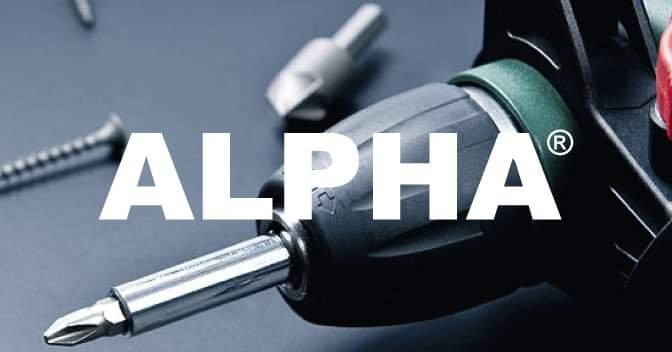 Alpha: A Well-Known Name in the Power Tool Industry
Fortunately, Aussies have work cut out for them, with respected tools and accessories makers like the variety of Alpha tools and accessories which have been a staple in the tool industry for decades. They are part of the revered Sheffield Group, which produces a wide range of tools and accessories across multiple fields.
The company is homegrown but also operates abroad with household names in the business like the Gold Series drills bits that feature in the toolboxes of every self-respecting handyman, tradie or pro. These are what you need in heavy-duty use, with tougher long-lasting materials, better coatings and optimal cutting angles for increased speed and better control.
If this is too much, and you want drill bits and cutting accessories for odd jobs, look to the Cobalt, Black and Silver series. These have proven their worth in metals, wood and plastics. The company also has countersinks, step drills, SDS chisels, auger bits, hole-saws and hole cutters. Carpenters, wood and metal workers are covered with a jigsaw, reciprocating saw and multi-tool blades. Buyers can also choose between standard and hex drive impact bits. Quite an extensive range covering all bases!
This is a general take on Alpha tools and accessories, out of which their drill bits stand out as the most commonly bought products. Alpha has an extensive drill bit lineup, boasting high strength, speed and precision for any job you can think of.
What Sets the Gold Series Jobber Bits Apart from the Competition?
First, let's define what 'Jobber' bits are. In drilling holes, thicker and tougher materials require you use longer bits. Jobber bits are ideal for this job. They're quite a bit longer than the other drill bit type – mechanic's bits, and to be precise, come in lengths that are 8 to 14 times that of the diameter.
Alpha guarantees their bits outperform others by 30 per cent. The Gold Series Jobber bits are made of M2 high-speed steel with trace molybdenum and tungsten to provide low wear, high toughness and hardness. Additional Titanium-Nitride coatings prevent heat buildup and increase lubricity. The combination ensures that bits will last in any project and all materials. Drill bit tips are designed with 135-degree split points that reduce the need for pilot points and initial taps, and provide quicker drilling with reduced bit wandering. If you want the ultimate in drilling control, high strength, convenience and long-lasting drill bits then consider investing in the Alpha Gold Series.
Step Down to the Cobalt, Black and Silver Series for Everyday Use
Black Series bits have black oxide coatings to control heat and come in the same M2 HSS as the Gold Series, but with steeper tips at 118 degrees for drilling into harder metals. Industry-grade Cobalt bits perform slightly better here, good for drilling into thicker cast-iron, stainless steel, titanium and bronze, as well as into stubborn welds. Bits in the Silver Series are more geared towards general-purpose use, especially in non-ferrous metals.
Alpha offers different diameters, lengths and shank sizes and designs (reduced and stub shanks) to get you drilling. Bits can be purchased on their own for a particular task, or if you want convenience and versatility, in drill bits sets neatly packaged in tough carry cases.
Variety of Bits for Different Applications
Wherever you need to drill, Alpha has got you covered. Besides standard shanks, the VersaDrive line consists of bits for impact drills with compatible hex heads. Impact-rated bits are for high-speed drilling, reaming and tapping, while rotary rated bits are for slow-speed heavy-duty tapping and countersinking applications. Alpha also has a range of impact wrench adapters, good with the latest cordless drills, and getting bits quickly on or off the chuck.
Hex head shanks feature in a variety of other drill bits. Step drills have steps in varying diameters, effectively doubling as a whole drill kit. Impact reamers help in hole alignment when working with metals, and combi bits give both tapping and drilling capabilities in one unit. Driver bits in different tip designs offer quick setting or removal of screws of any size. For masonry work (brick, concrete and tiles), go with SDS Plus and SDS Max bits used with SDS and hammer drills.
What to look for in Drill Bits
Materials
Alpha sources their drill bits in high-grade steel alloys based around HSS. This offers versatility and can be used for drilling into different materials. Cobalt and carbon bits endure longer on harder surfaces, having high heat and friction resistance. For high strength look to Tungsten Carbide Tips (TCTs) which are good for drilling into masonry, tiles, ceramics and hard plastics. If drilling into particularly hard surfaces choose tips with diamond coatings, as they won't stop at anything.
Sizing
Bit sizing needs to be appropriate for the application and to drill to the required depths. Also, take into account bit diameters as this affects the width of the hole. Alpha has sizing set in neatly organised lines, and this is made easier when getting a bit toolbox, with differently sized bits. This allows you extended use in a range of tasks.
Tool Compatibility
Bits fit different drills, and this is evident in the shank types. Straight bits like the Gold Series fit standard drills, whereas hex head bits are for use in impact drills and wrenches. Cylindrical shanks are often found in SDS bits and these fit SDS and hammer drills. Ensure you have the right shank design and depth for the materials you'll be drilling into.