An avid sports fan knows how it feels to be left out or miss out on a very much anticipated game. It's hard to keep up with all of your favorite teams and sports when you also have other responsibilities. But with today's internet, it is not easy for you to keep and witness for yourself the events that you missed. 
With the rise of streaming media, websites that offer live streaming are everywhere. it's hard to find the most reliable sites to watch your favorite sport. Don't worry, we will make this easy for you. 
Here we will list the top 10 of the best streaming sites that are available on the internet. These are sites with outstanding reputations when it comes to quality and relevance. 
Laola1.tv is currently one of the most popular sports streaming websites right now. The website is based in Austria but has since gained a wide audience especially in Germany. The site currently supports two languages, German and English. 
The site started with streaming football but has since then expanded to cater to a plethora of sporting events. You can browse through its different channels to watch your favorite sport. 
One of the best features on this site is that you can record the matches that you like and watch them later. You can also discuss with fellow sports enthusiasts of the website's different forums. 
ESPN is probably the biggest name when it comes to sports. It has one of the largest collections of various sports activities. Almost all of the most popular sports in the world are live-streamed and broadcasted on ESPN.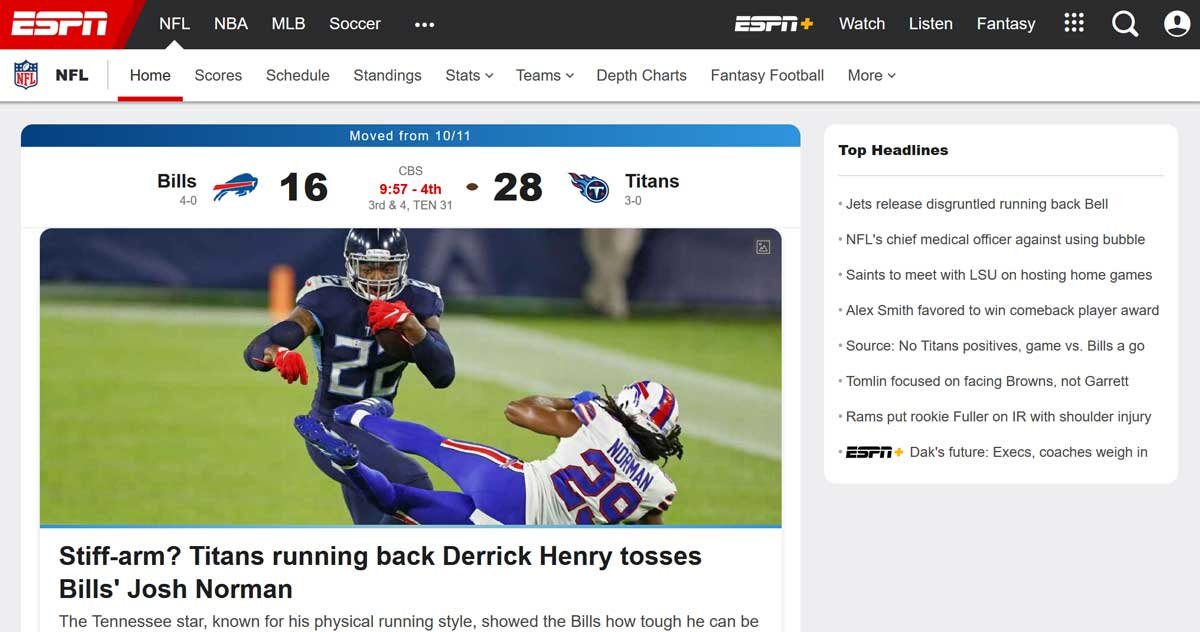 Not all sports, however, are free to stream. ESPN has a free and a premium package. For free, you can live stream a limited amount of sports without the need to log in. For a premium subscription, you will pay a monthly or annual fee and you have access to all live streaming events. 
ESPN can be accessed through their website or their mobile app which is available on iOS and Android platforms. 
LiveTV has gained an impressive reputation for its top tier free streaming services among sports fans. Currently, the site supports English, Russian, Italian, and Spanish which makes it more accessible to a global audience. 
The site has a dedicated scoreboard section where you can monitor your team's scores live. This is an excellent feature especially if you are busy and don't have enough time to watch the game live. 
LiveTV also has a very streamlined user-friendly interface which makes it easier for you to navigate and find the sports that you love. LiveTV is also available on iOS and Android so you can stream your favorite game on the go. 
Often regarded as on the biggest live sport streaming sites in the world, Stream2Watch boasts a huge collection of streaming links that are curated from other websites.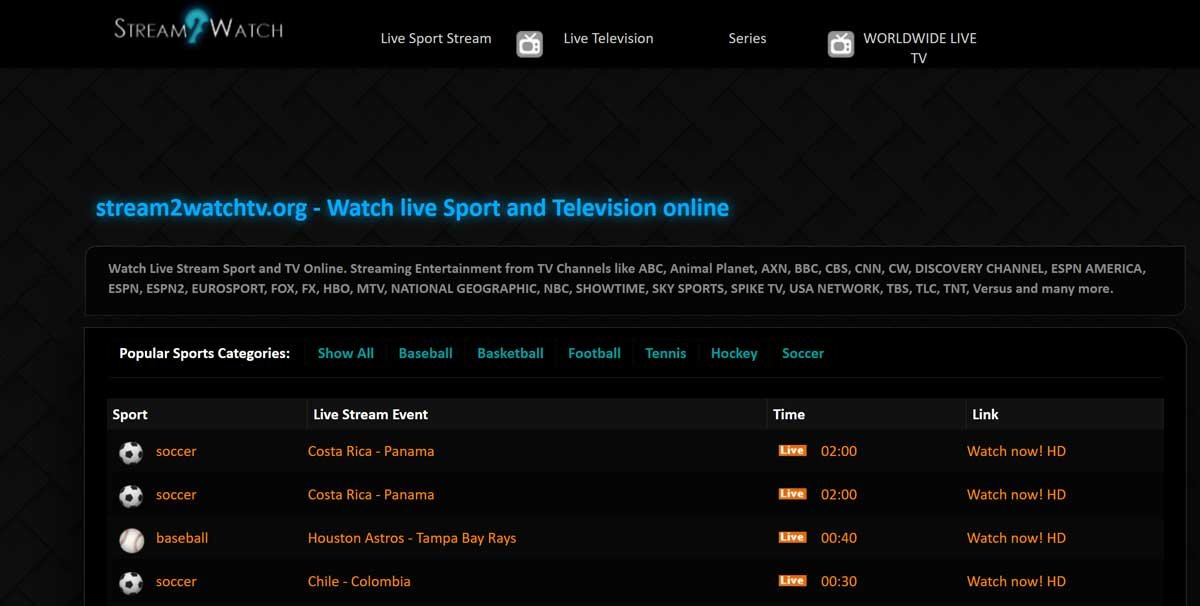 The website's best feature is that you are provided with mirror links of the same event so you'll have different options just in case one of the links crash. 
While it's intrusive pop up ads are often the target of criticisms, everything else on the site makes up for it. Its dark user interface is also very impressive, especially for indoor streaming. 
While relatively new to live sports streaming, StreamWoop has become increasingly popular especially in North America. The site has been lauded for its easy to use interface and multiple links to important live sports events. 

StreamWoop's other main feature is its public chat room. Sports fans can freely share and discuss with other visitors on the website. It also has a dedicated section for the most popular sports events. 
Started mainly to cater to Cricket live streams, Cricfree has since expanded to cover soccer, rugby, tennis, boxing, baseball, and American football. 
The videos streamed on the site are hosted on other websites. This makes it hard to get rid of annoying pop-up ads. NFL streams on the website, however, are free from these invasive ads. 
Cricfree is also available to download as a mobile app on iOS and Android. This helps you keep up your favorite sports anytime anywhere. 
Bosscast is a new live sports streaming site that is based in the US. The site is dedicated to sporting events like basketball, baseball, and American football. 
The user interface of the site is streamlined to help you easily access and look through the available channels for your favorite games. A chat box is also available for you to provide input and interact with other sports fans while streaming a sporting event. 
Another site that provides a vast array of sporting events is Sportlemon.tv. It also provides multiple links to make sure you can have access to the event that you like. 
The site is very user-friendly. You can easily sift through their sports categories and channels without the hassle. 
Conclusion 
Don't let the hassle of everyday life prevent you from enjoying your favorite sport. These sites will provide you with the best sports entertainment the internet has to offer. 
Invite friends, grab a beer, enjoy, and cheer for your favorite teams at the comfort of your computer or mobile screen at your own time.