Gucci is not only renowned for creating great fashion and accessories, but also fine jewellery, with an extensive range of women's and men's high-end jewellery to suit everyone's individual tastes. Whether you desire a watch, a diamond necklace, a ring that makes a fashion statement or a timeless bracelet, it's all available from the master craftsmen at Gucci.
Gucci earrings are a popular choice when it comes to Gucci jewellery and in this article, we're going to be featuring some iconic earrings from the Gucci Earrings Australia collection. Whether you're choosing earrings for yourself or someone special, there's bound to be something in the Gucci range that will catch your eye.
Gucci Rose Gold Earrings
While the majority of the Gucci earring range is either made from yellow gold, white gold or silver, you can buy rose gold Gucci earrings if this is your gold colour of choice. One prime example is earrings featuring the classic Gucci double G, which are the founder's initials.
If you have other jewellery pieces in your collection that are made from rose gold, then matching them up with some Gucci rose gold earrings will really make a fashion statement.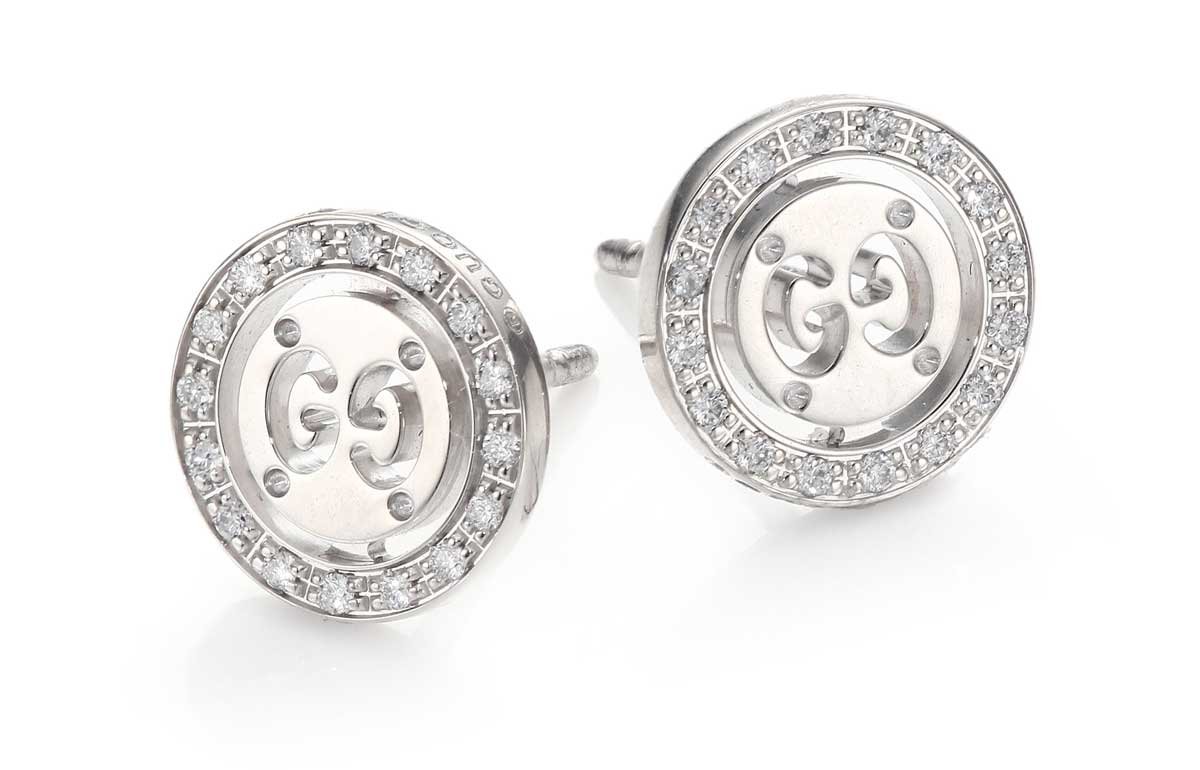 Gucci Earrings With Enamel Heart
Choose from either blue or red enamel in the Gucci heart earrings range. Crafted from 925 sterling silver and adorned with either blue or red enamel, you'll discover that each earring is etched with the traditional interlocking double G that's synonymous with the Gucci brand.
These earrings are made in Italy and the Gucci brand and details are featured on the base of the heart.
If you want something a little different to what everyone else is wearing, then consider purchasing a pair of Gucci earrings with an enamel heart.
Gucci GG Drop Earrings
If heart enamel studs aren't your thing, you might find drop earrings from the Gucci collection more to your taste. These earrings come in either yellow gold or white gold and feature several different designs.
One pair comes with a star-shaped stud, from which elegantly dangles the iconic interlocking double G. The other pair features a heart-shaped stud, once again with the double G dropping just below the earlobe. Classic drop earrings are a fashion you can wear for all occasions.
Gucci Trademark Heart Stud Earrings
In the Gucci jewellery range, they feature their iconic heart design in a number of pieces, including bracelets, rings and earrings. Made from 925 sterling silver, these understated earrings are heart studs etched with the classic Gucci brand and the Made In Italy insignia.
The heart range from Gucci is a standard and timeless range of jewellery, so be sure to include the Heart Stud Earrings in your Gucci jewellery collection. These earrings match up perfectly with the other sterling silver heart pieces from Gucci, and can be worn during the day or night for all occasions or casual wear.
Gucci Le Marche Des Merveilles Hoop Earrings
Hoop earrings have always been an extremely popular design. They look great on every woman, no matter whether they are gold, silver, or even just costume jewellery. The Gucci Le Marche Des Merveilles Hoop Earrings are something extra special if you're a diehard Gucci fan. They come in 18K yellow gold in a rope design that's very pleasing to the eye.
60mm in diameter, these earrings are nickel-free and hypoallergenic. Every girl can proudly wear a pair of Gucci hoop earrings and the good news is, hoop earrings never go out of fashion.
Gucci Flora Earrings
Drop style earrings have always been a favourite with Australian women and the Flora earrings from Gucci are exquisite in design. They feature the iconic Gucci double G in white gold for the studs and a flower pendant. The entire earrings are emblazoned with dazzling diamonds and will look a million bucks on anyone who chooses to wear them.
There are a total of 52 tiny diamonds in this pair of earrings, enough to warm any woman's heart. Gucci Flora Earrings make the perfect gift.
The Takeaway
No matter what earrings you select from the amazing Gucci range, you can be assured of a quality product, crafted from the very best precious metals and stones. Gucci has always been synonymous with luxury and that's what you can expect with all of the earrings in their collection.