Diabolik Lovers is a Japanese TV anime series. Originally titled Diaborikku Ravāzu, this horror mystery is based on the popular Japanese video game with the same name. The first video game in this series was released in the year 2012. It was then adapted into a graphic novel with the same name.
The novel, or the manga series, was followed by a TV anime adaptation of the game. The first season of the anime was released on 16th September 2013. It ran till 9th December 2013. The first season had 12 episodes each with approximately 15 minutes of running time. Produced by Zexcs studio and directed by Atsushi Matsumoto, the first season was a hit.
Its success paved way for the second season, which was premiered on 24th September 2015. With 12 episodes each with approximately 12-minute duration, the second season ran till 10th December 2015. With the success of the second season, fans of the show naturally started waiting for the third season. Although it has been five years since the last season, fans are still eagerly looking forward to Diabolik Lovers season 3.
What makes the series so exciting and what are the prospects of the third season- Here's what we have for you.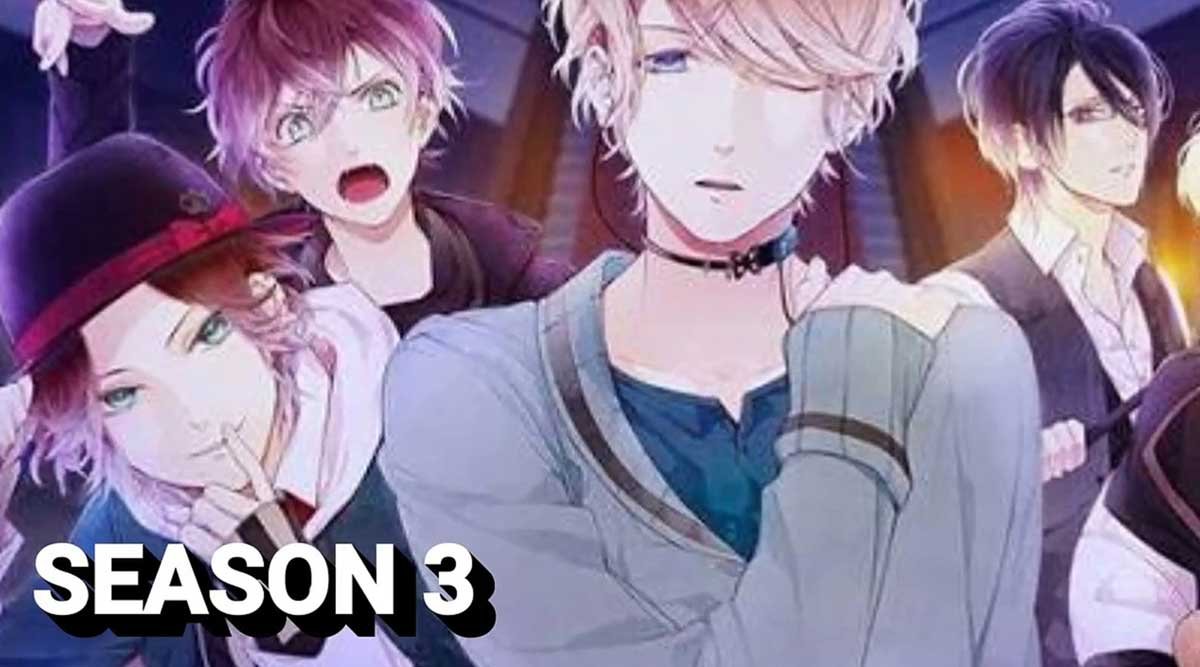 When can we expect season 3?
The expectations are high and so is the chance of success. With enough source material available from the original game, the third season is just a matter of time. Discussions are on, but we are yet to get any confirmation. Our best guess about season 3 premiere is somewhere in the year 2021.
Is there a Dubbed version available?
Yes, language is never a deterrent for enjoying the show. Originally in Japanese, the English dubbed versions are available on streaming services like VRV, Crunchyroll, or HiDive.
Plot Summary
"Diabolik Lovers"- Season 1
Diabolik Lovers tells the story of Yui Komori, a happy-go-lucky teenage girl who is forced to stay with six brothers who happen to be sadistic. Despite being a normal girl, she starts feeling a supernatural presence around her. Her father's work-related demands force her to be transferred to a night school. The school is said to have the presence of vampires.
Quite strangely, her father sends her to stay with Sakamaki brothers in their mansion. The brothers are vampires and they are surprised when they hear about Yui joining them. They consider her as their common bride, a sacrificial offering, and use her to quench their lust. Yui is taken into a mysterious world of pain and ecstasy both in equal measures. She is trapped there, and the brothers don't allow her to escape.
"Diabolik Lovers II More Blood"- Season 2
Yui is still trapped at the Sakami mansion. She is unable to decipher her recurring dreams. She seems to be lost in a web of mysteries. However, a car crash helps her to understand bits and pieces of what is happening to her. In the process, she meets the Mukami brothers. Just like the Sakamaki brothers, they are vampires. Yui is taken to the Mukami mansion. She gets to hear from the brothers about their plan. All they need from her is her blood which they consider as Eve's blood to be used to find the Adam among them. Yui realizes that she is just a pawn in their scheme of taking over the world. At the same time, the Sakamaki brothers are also after her, as they hate to lose their most valued possession, Yui.
Characters
The major characters and their characteristics are mentioned below.
Yui Komori (Japanese Voice Actor- Rie Suegara)
The protagonist, a teenage girl who gets trapped in a web of mysterious happenings. In the due course, she comes to know about certain startling revelations about herself.
Shuu Sakamaki (Japanese Voice Actor- Kousuke Toriumi)
The head of the Sakamaki family. He is lazy and is quite happy delegating his responsibilities to others in the family.
Reiji Sakamaki (Japanese Voice Actor- Konishi Katsuyuki)
The disciplinarian of the Sakamaki family. He grudges Shuu for his position as the family head. Reiji has his share of secrets hidden from everyone.
Ayato Sakamaki (Japanese Voice Actor- Hikaru Midorkawa)
The impetuous, arrogant one in the family. He thinks he is the best in everything that he does.
Kanato Sakamaki (Japanese Voice Actor- Yuki Kaji)
He seems to be polite but is disturbed and unstable. He behaves like a child and often suffers from mood swings.
Laito Sakamaki (Japanese Voice Actor- Daisuke Hirakawa)
An abusive and deranged one. Often becomes the most sadistic towards Yui. His disturbed nature is a result of his troubled childhood.
Subaru Sakamaki (Japanese Voice Actor- Takashi Kondou)
Subaru is probably the weakest of the lot. Haunted by a traumatic childhood, he often finds himself in difficult situations.
Ruki Mukami (Japanese Voice Actor- Takahiro Sakurai)
The head of the Mukami family. He has high intellect but can be quite sadistic.
Kou Mukami (Japanese Voice Actor- Ryohei Kimura)
He seems to be friendly but is quite untrustworthy. A selfish being who gives importance only to himself.
Yuumi Mukami (Japanese Voice Actor- Tatsuhisa Suzuki)
He is quite vicious and sadistic. Goes to any lengths to induce pain on others.
Azuza Mukami (Japanese Voice Actor- Daisuke Kishio)
He is weak but tries to hide it by being extremely violent and sadistic.