Unveiling the Epitome of Workspace Ingenuity
In a world where productivity and style unite, the E1L l shaped standing desk takes center stage. Discover a realm where ergonomic design and aesthetic appeal harmonize, offering a workspace that caters to your every need.
A Symphony of Space: The Reversible Panel
Experience the grandeur of the L-shaped work surface, adorned with splice boards sourced from the heart of environmental consciousness. This expanse provides a canvas for your ongoing projects and an organized haven for your office essentials. Notably, the reversible panel effortlessly caters to both left-hand and right-hand users, adapting seamlessly to your preference.
Serenity in Motion: The Dual Motor Lifting System
Embark on a journey of elevation with the dual-motor lift mechanism. This technological marvel orchestrates height adjustments with grace, ensuring smooth transitions from 28.9″ to 48.2″. As quiet as a whisper, the lifting and lowering process emits a mere murmur (under 50 dB), transforming your workspace into a sanctuary of tranquility.
Illuminating Your Realm: Customizable LED Work Panel
The built-in LED control pad emerges as your creative palette, allowing you to craft and curate the perfect desk height. Delve into the realm of customization with three memory height settings, empowering you to effortlessly switch between your favored standing and sitting positions. Bask in the glow of personalization as you infuse your workspace with your unique touch.
Might and Stability United: Durable and Stable Construction
The E1L L-Shaped Standing Desk stands as a paragon of strength, where industrial-grade steel frames meld seamlessly with a robust desktop. This alliance offers unwavering support, bearing a remarkable weight capacity of up to 177 lbs. Your ultimate work setup finds a steadfast ally in this stronghold of reliability.
Guardian of Progress: The Anti-Collision Safety Feature
Advanced technology meets vigilance in the form of an anti-collision safety feature. A sentinel of protection, it stands vigilant, halting and reversing the desktop's movement at the mere detection of unexpected obstacles. This safeguard fortifies safety, mitigating potential damage and elevating peace of mind.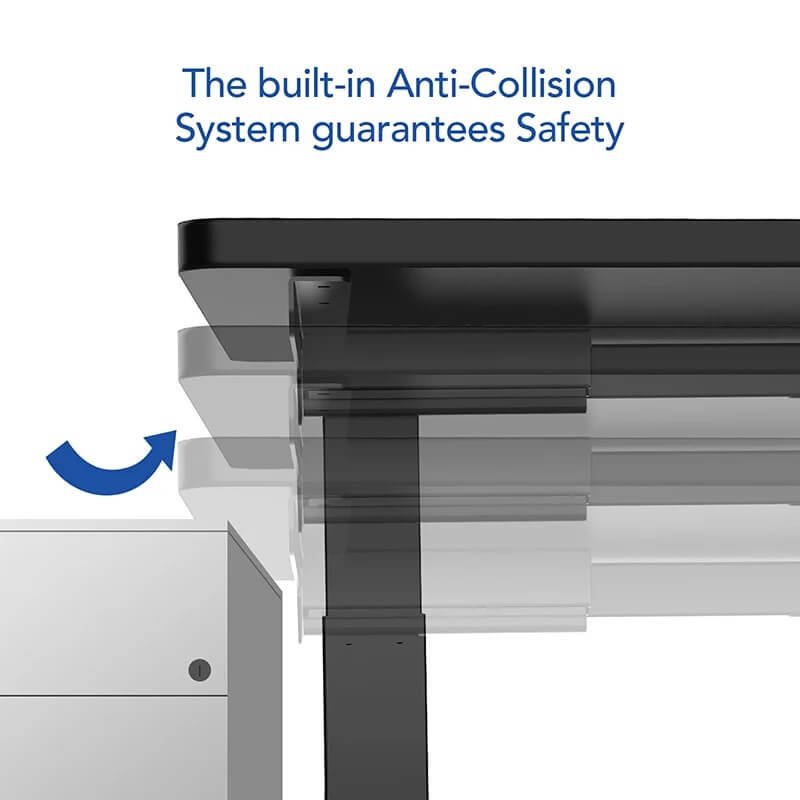 Beyond Conventions: Absolutely the Extraordinary
Breaking boundaries, the E1L L-Shaped Standing Desk introduces a symphony of innovative features:
– Free Delivery: Seamless freedom to switch between left or right L-shapes anytime, bolstered by complimentary shipping.
– 30-Day Guarantee: Embrace risk-free exploration, with a window of 30 days for returns, ensuring your absolute satisfaction.
– Buy Now, Pay Later: Embark on your journey with ease, embracing the convenience of easy financing through affirming monthly payments.
The Unseen Ensemble: Navigating Technical Details
– Main Section Depth: 23 inches, defining your workspace dimensions.
– Chipboard's Weight (63×40 inches): A feather-light 43 lbs, complementing the desk frame's formidable capacity of 220 lbs.
The E1L L-Shaped Standing Desk presents a symphony of possibilities, merging form and function to elevate your workspace journey. As you embark on this revolutionary chapter, remember that every element is designed to harmonize with your aspirations, cultivating a workspace that resonates with your soul.
Feel free to contact with your queries. You can place an order online.