The kitchen is the heart of every home, so it's understandable that most of us would want this particular area looking well-appointed and stunning.
An upgrade can help you achieve that.
While a beautiful, spacious kitchen makes cooking a breeze and the space inviting and entertaining, when it's time to pack up and hire local moving service to move you out, a well-upgraded kitchen can also help you fetch a tidy sum as it's one of those key areas of your home that can increase a property's value while also attracting eager buyers at the same time.
But before you start planning what type of remodel you want in your kitchen, we cannot overemphasize the importance of sitting down with a pen and paper and evaluating the whole issue from a 360-degree perspective.
That's because:
There are different types of kitchen remodels and the budget varies considerably depending on what you're planning to do – never mind the size of the kitchen

Some remodels you think will make the kitchen look great might turn out to be money pits with no significant added value

All kitchen renos are not equal. It might come as a surprise to learn that a modest renovation (e.g. swapping out an old sink in favor of something more modern OR painting the cabinets) has a higher potential return on investment compared to a larger project (e.g. upgrading the entire space)
That said, what are some of the costs you can expect when renovating a kitchen?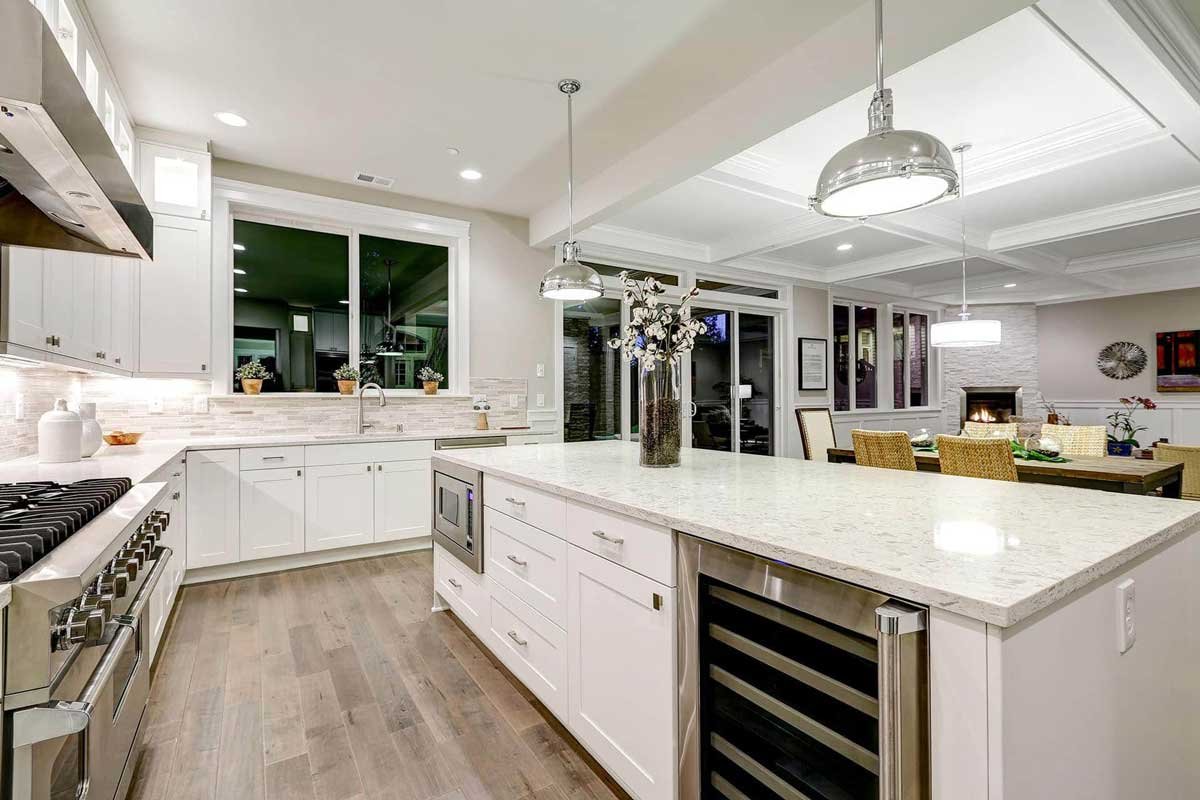 Average Kitchen Renovation Costs
Kitchen projects differ in terms of scale – some are minor, others mid-scale, and there also the larger and major upgrades.
Let's delve into the costs associated with each.
Minor Kitchen Remodel (Average Cost: $10,000 – $15,000)
These are the easy makeovers typically meant to spruce up the basic elements in your kitchen that have become outdated without costing you a fortune.
Areas to save:
Painting the cabinets

– You can opt to DIY if you have the tools and supplies (and a little skill) which should set you back anywhere between

$200 and $600

. Or hire a pro to do the work at an

average cost

of $400 and $1,550.

Low-cost countertop installs

– A countertop doesn't have to cost an arm and a leg. A Formica and butcher block, for example, can cost between

$75 and $150 per square foot

.

Tiling

– Another low-cost project that can breathe new life into your kitchen without having you drop major coin.
Areas to splurge:
Appliances

– If the appliances are relics, consider upgrading with new modern stainless steel appliances that will instantly transform the look and feel of your kitchen. This is a big selling point for today's buyers, with

40% admitting

they would fork out more for a home with stainless steel appliances.

Mid-scale Kitchen Remodel (Average Cost: $15,000 – $30,000)
If you're working with a slightly higher budget, consider investing in some more quality outfitting.
A mid-sized kitchen, for example, could be transformed by adding top-notch quartz countertops. Along with labor, that's likely to cost you in the region of $20,000.
Areas to save:
Reface the cabinets

– If your existing structure is still in okay condition, you don't need to incur thousands of dollars on top of your bill when you could simply reface the cabinets with new fronts, doors, and hardware.

Cost

: $4,000 – $10,000.

Keep the existing layout

– This can save you thousands of dollars in electrical, plumbing, and structural work.

Opt for simple, but sleek hardware

– Fixings like pulls and knobs won't add much value when you decide to sell. So, unless you're doing it for personal reasons, you can save hundreds by opting for more pocket-friendly, albeit top-notch, options.
Areas to splurge:
Quality countertops

– You can skip grainy lower-grade granites in favor of higher-grade granite or quartz.

Kitchen island

– Kitchen islands are one of the hottest trends in the market currently. Not only do they spruce up your kitchen, but also the increased counter space can add a few thousand dollars to your home value. Cost of installation will depend on size and material you'll use, and averages between $800 and $20,000.
Major Kitchen Remodel ($29,000 – $64,000)
Typically done on higher-end homes, a major kitchen reno can set your house apart from others in the market.
Major remodeling includes structural changes such as reconfiguring layouts, moving entire walls, and adjusting electrical lines and plumbing.
Areas to save:
Marrying high- and low-end finishes – You can save on light fixtures, kitchen faucets and hardware by mixing up luxury elements with lower-cost, but quality, features.
Class countertops and cabinets should also prove a draw for buyers.
Areas to splurge:
Adding a walk-in pantry

– There's a

huge appetite

for walk-in pantries, with this desired feature

costing

between $1,000 and $6,500 to install.

Open floor plan

– You can knock down the walls if you want to give your kitchen a modern look. The cost differs between non-load-bearing walls (

average cost

$700) and load-bearing walls whose cost could run in the thousands.