William Leonard Roberts, who is known as Rick Ross, is an American professional rapper, songwriter, producer, and businessman.
Personal Details
Stage Name: Rick Ross
Full Name: William Leonard Roberts II
Gender: Male
Birthday: January 28, 1976
Place of Origin: Clarksdale, Mississippi, U.S
Age: 44
Height: 6ft
Nationality: American
Sexual Orientation: Straight male
Status: Single
Spouse: none
Profession: Rapper, songwriter, producer, and businessman
Total Net Worth: $40 million
Personal Life
William Leonard Roberts, a.k.a. Rick Ross, was born on January 28, 1976 in Clarksdale, Mississippi. Yet, Rick Ross grew up in Carol City, Florida. 
Rick Ross attended Miami Carol City Senior High School and after graduating high school he received a football scholarship and attended Albany State University, a historical black college. From December 1995 to June 1997, Rick Ross has worked as a Correctional officer.
He is a Christian and has stated that he will never question God no matter what and that he prays before every performance.
In his romantic relationship, Rick Ross was briefly engaged in 2015 to Lira "Galore" Mercer.
WIlliam Leonard Roberts II has 4 children namely Toie Roberts, William Roberts III, Berkeley Hermes Roberts, and Billion Leonard Roberts.
He got into controversies and legal issues such as for his statement that he would never sign a female rapper because he would sleep with her. Later on, he made an apology via facebook stating that he was insensitive and he regretted what he said. Rick Ross got arrested and faced lawsuits like when he was arrested for guns and marijuana drugs in January 2008. He also was filed a lawsuit for assault and battery in August 2008.
Career
He actually made his debut under the stage name of Teflon Da Don. It was in his early years at Suave House Records. The song entitled "Ain't Shhh to Discuss" was his recording debut. The song was on Erick Sermon's lone album for DreamWorks, Def Squad Presents Erick Onasis. He did not stick with the stage name Teflon Da Don and he changed his stage name to Rick Ross in the mid 2000s. His new stage name was derived from the former drug kingpin "Freeway" Rick Ross. He has no connection with the drug kingpin.
Rick Ross had his debut single in 2006. He released "Hustlin" and record labels had swarmed to get him to sign. Bad Boy Entertainment by Diddy and Murder Inc. by Irv Gotti made an offer to Rick Ross. Eventually, Rick Ross signed with Jay-Z's Def Jam Records. He signed a multi-million dollar deal with Def Jam Records.
In August 2006, Rick Ross released his debut album entitled "Port of Miami". The album landed the spot number 1 in the U.S. Billboard 200 album chart and received Gold certification from the RIAA or Recording Industry Association of America. The album also sold 187,000 units in the first week. He performed as a guest in DJ Khaled's debut singles "Born-N-Raised" and "Holla at Me" from the album Listennn… the Album.
Rick Ross released his second album in March 2008 entitled "Trilla". The singles in the album have reached the US Billboard Hot 100 Singles such as the song "Speedin'" feat. R. Kelly reached number 21, and the single "The Boss" feat. T-Pain reached number 17. In the 2008 Hottest MCs in the Game, MTV News listed Rick Ross on the fourth spot.
Rick Ross founded the record label in 2009 named "Maybach Music Group". His label has released his studio albums namely "Deeper Than Rap" in 2009, "Teflon Don" in 2010, "God Forgives, I Don't" in 2012, "Mastermind" and "Hood Billionaire" in 2014, "Black Market" in 2015, "Rather You Than Me" in 2017, and "Port of Miami 2" in 2019.
In 2010, Rick Ross accomplished a lot. His fourth album was released on July 20, 2010  entitled "Teflon Don". The album reached number 2 on the Billboard 200 with 176,000 copies sold in the first week. It has the lead single entitled "Super High" feat. Ne-Yo and the actress Stacey Dash. Another single in the album is the song entitled "Live Fast, Die Young" feat. Kanye West in which he also produced it.
In 2012, he released his fifth album entitled "God Forgives, I Don't". The album reached number 8 on the UK Albums Chart and reached number 2 on the UK R&B Albums Chart. It is Rick Ross' highest-charting album. In less than two month, the album was certified gold. The album has singles that were premiered entitled "So Sophisticated" feat Meek Mill, the single "Touch'N You" feat. Usher, the single "Hold Me Back", and the single "3 Kings" feat. Dr. Dre and Jay-Z. The Source has named Rick Ross as the "May of the Year". 
His sixth album was released in March 2014 entitled "Mastermind". The album's title was revealed in January 2013. It received positive reviews and it reached number 1 on the Billboard 200 selling 179,000 copies. He released his eight album entitled "Black Market". His ninth album entitled "Rather You Than Me" reached number 3 on the Billboard 200.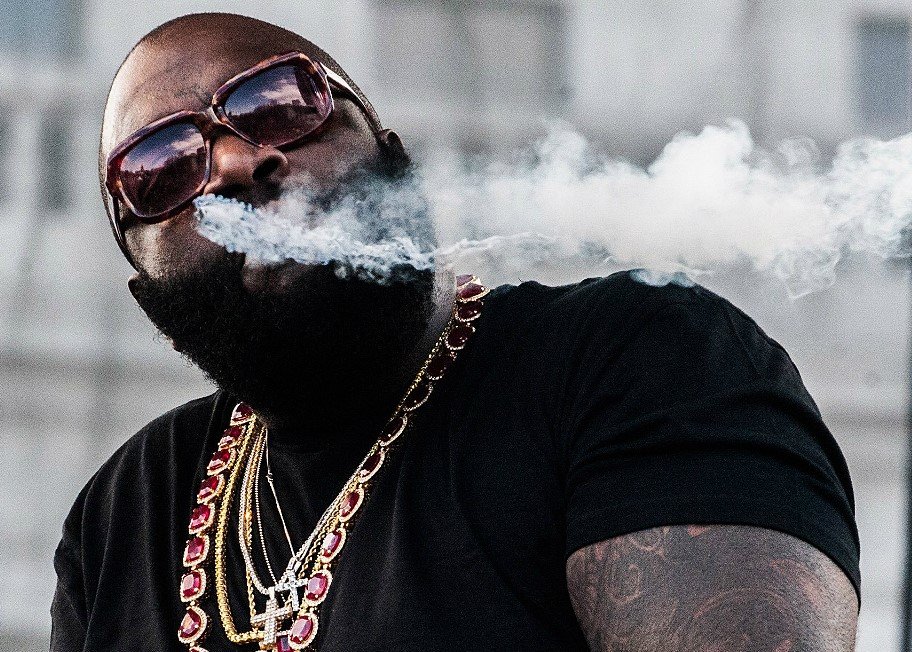 The album Rather You Than Me has a first single entitled "Florida Boy" which features T-Pain and Kodak Black. And also in the album, he released the single "Green Gucci Suit" that features Future. For his tenth album entitled "Port of Miami 2" reached number 2 on the Billboard 200 and the single in the album entitled "Gold Roses" featuring Drake was nominated for Grammy Award in the category for Best Rap Song at the 62nd Annual Grammy Awards.
2015 was a mixed year for Rick Ross in accomplishments and issues. One of his controversies was that he was arrested for kidnapping and assault.
Rick Ross Total Net Worth
Rick Ross has been one of the highest paid rappers globally. He has sold millions of singles and albums. He made lots of money from his music and has also added several investments in his portfolio. Rick Ross has a net worth amounting to $40 million.