Wondering who are the best female MMA fighters of all time? Some may have left the industry, but they should still be included for the fact that they have been champions! Women indeed are tough and these women are great examples of how strong they can be! Check our top 10 female fighters in the MMA!
Cristiane "Cyborg" Justino ( 22-2-0, 1 NC)
Cris Cyborg is a Brazilian-American MMA fighter that is presently signed to Bellator MMA and competing in the division Women's Featherweight. She is number 1 in this list for the many accomplishments and championships she won. Some of her winnings include:
Bellator MMA Women's Featherweight Championship

UFC Women's Featherweight Championship

Fight of the Night (against Holly Holm)

Strikeforce Women's Featherweight World Championship

Invicta Fighting Championships

World MMA Awards

Women's MMA Awards

And many more!
Joanna Jedrzejczyk (16-4-0)
Joanna Jedrzejczyk is a Polish MMA artist and former Muay Thai fighter who fights in the women's strawweight and women's flyweight division of the UFC or Ultimate Fighting Championship. Some of her achievements are:
UFC Women's Strawweight Championship

Performance of the Night (against Carla Esparza)

Women's MMA Press Awards

2015 Female Fighter of the Year

2014 Strawweight of the Year

First Polish UFC Champion

First Female European UFC Champion

2016 July Fight of the Month (against Claudia Gadelha)

2020 March Fight of the Month (against Zhang Weili)
Ronda "Rowdy" Rousey (12-2-0)
Ronda "Rowdy" Rousey is a professional actress, author, wrestler, and former MMA artist. She is currently signed to WWE since 2018. She got the nickname "Rowdy" from the late wrestler, Roddy Piper. Her achievements include:
UFC Hall of Fame

UFC Women's Bantamweight Championship

Submission of the Night (against Meisha Tate)

4-time Performance of the Night (against Bethe Correia, Alexis Davis, Sara McMann, and Cat Zingano

1st Female UFC Champion

Fastest female's title fight victory in the history of UFC (14 seconds, against Cat Zingano)

1st Olympic medalist to achieve a UFC championship

2-time Best Female Athlete ESPY Award

Best Fighter ESPY Award

3-time Female Fighter of the Year
Marloes "Rumina" Coenen (23-8-0)
Marloes "Rumina" Coenen is a former Dutch MMA artist. Her last competition was in 2000. Her winnings include: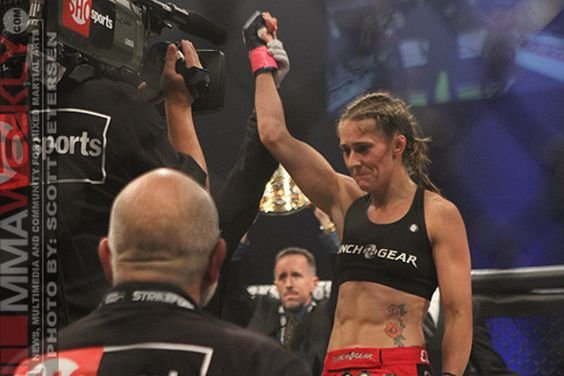 2010 Strikeforce Women's Bantamweight Champion

2007 ADCC Bronze – Women's below 67 kg.

2000 ReMix World Cup Champion

Dutch Brazilian Jiu-Jitsu Champion
Valentina "Bullet" Shevchenko (19-3-0)
Valentina Shevchenko is a Kyrgyzstani-Peruvian former Muay Thai fighter and a professional MMA artist. She fights in the women's flyweight division of the UFC, where she currently holds the Women's Flyweight Champion. Her other achievements include:
3-time Performance of the Night (against Jessica Eye, Julianna Pena, and Priscilla Cachoeira

Most wins in the Women's Flyweight Division (UFC)

First woman to defend the UFC Women's Flyweight title

2019 June Knockout of the Month (against Jessica Eye)

Kunlun Fight Women's Lightweight Championship

2004 World Kickboxing Champion

2003 World Champion KF-1 MMA Pro

2015 IFMA Royal World Cup Tournament Championship

2014 IFMA World Championship

2006-2012 IFMA World Championship
Amanda "The Lioness" Nunes (19-4-0)
Amanda "The Lioness" Nunes is a Brazilian MMA artist who fights in the UFC, where she is the reigning champion of the women's featherweight and bantamweight divisions. Amanda is the first female to hold two division titles in the UFC. Some of her winnings are: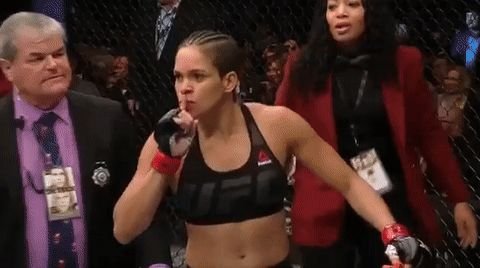 UFC Women's Bantamweight Championship

UFC Women's Featherweight Championship

5-time Performance of the Night (against Holly Holm, Cris Cyborg, Ronda Rousey, Miesha Tate, and Sara McMann)

2015 Submission of the Month (against Sara McMann)

2018 and 2019 Female Fighter of the Year

2018 Knockout of the Year (against Cris Cyborg)
Megumi "Mega Megu" Fujii (26-3-0)
Megumi "Mega Megu" Fujii is a former Japanese MMA artist. She primarily specializes in submission fighting and is known for her fast submissions and takedowns. Some of her achievements are:
Japanese National Sambo Champion

Brazilian Jiu-Jitsu Champion

4 2nd Place finishes in the World Sambo Championships

2004 and 2006 BJJ Pan-Am Champion

Ground Impact Professional BJJ Tournament Champion

2005 and 2007 3rd Place ADCC under 60 kg
Miesha "Cupcake" Tate (18-7-0)
Miesha "Cupcake" Tate is an American former MMA artist who fought in the UFC and is currently an MMA pundit. She is a former Women's Bantamweight Champion in the UFC and is known for her grappling ability. Some of her awards are:
UFC Women's Bantamweight Championship

Performance of the Night

2x Fight of the Night (against Ronda Rousey and Cat Zingano)

Strikeforce Women's Bantamweight Championship

FCF Women's Bantamweight Championship

2011 Female Fighter of the Year

2016 Comeback of the Year

2013 VMMA Fight of the Year against Ronda Rousey
Holly "The Preacher's Daughter" Holm (13-5-0)
Holly "The Preacher's Daughter" Holm is an American MMA artist who fights in the UFC. She is also a former kickboxer, boxer, and Women's Bantamweight Champion. Her achievements include:
WBF Female World Welterweight Championship

WBF World Light Welterweight Championship

2012 Female Fight of the Year (against Anne Sophie Mathis)

2012 Female Fighter of the Year

WBAN World Junior Welterweight Championship

WBAN World Junior Middleweight Championship

WBAN World Welterweight Championship

2012 Biggest Comeback of the Year

2007 and 2010 Fighter of the Year

2005 Hottest Rising Star of the Year
Yuka "Vale Tudo Queen" Tsuji (24-3-0)
Yuka "Vale Tudo Queen" Tsuji is a Japanese MMA artist and a former Smackgirl winner, Valkyrie Featherweight Champion, and Smackgirl Lightweight Champion. Some of her winnings are the following:
2005 Smackgirl Lightweight Champion

2009 Valkyrie Featherweight Champion

1997 Bronze Award in the Women's Freestyle Wrestling in the Asian Championship

2002 Japan Cup Middleweight Champion