Stuck at home and looking for new vegetable recipes that will satisfy both your stomach and taste? Mouthwatering meals don't always mean that meat should be involved! Check out these delicious garden vegetable recipes that won't make you feel guilty after enjoying a large helping!
Recipe #1: Vegetable Scones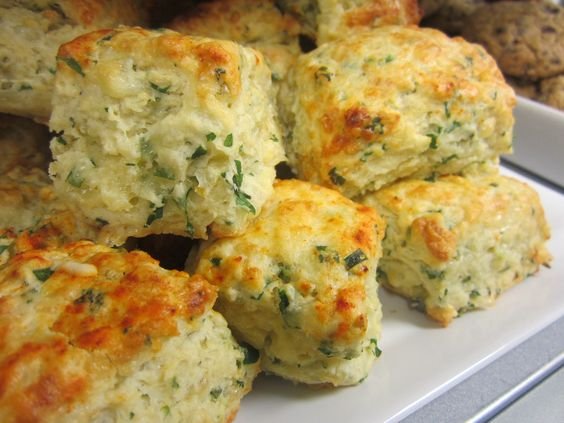 Who says you can't have vegetables in the morning? These veggie scones are perfect sides that go with bacon and eggs for breakfast. Not only that, but they are also great for both afternoon and dinner meals. You can buy frozen spinach leaves and add other colorful ingredients, such as sun-dried tomatoes, peppers, and onions and follow this recipe:
Ingredients:
1 tbsp. Olive oil

⅓ cup bell peppers (diced), you can use half yellow and half red to make the dish more appealing

¼ sweet onions (diced)

3 cups all-purpose flour, plus more to flour the surface

1 cup spinach (fresh)

½ tsp. Kosher salt

1 tbsp. Baking powder

¼ tsp. Nutmeg

½ tsp. Black pepper (coarsely ground)

½ unsalted butter (cold)

¾ cup milk (may need more to achieve desired consistency)

3 ounces cream cheese (cold)

1 egg (beaten lightly)
Directions:
Preheat your oven to 400 degrees. Line your baking sheet with parchment paper or you can lightly spray with a non-stick cooking spray.

Heat the oil in a medium skillet. Add the bell peppers and onions and cook them on medium-high for about three to four minutes. The bell peppers should be soft and the onions translucent. Then, add the spinach and cook until it becomes wilted. This should also take about three to four minutes. After that, set aside the skillet.

Whisk together the nutmeg, baking powder, flour, salt, and pepper in a big bowl.

Grate the butter in a box grater and work into the mixture using your fingers until they form into pea-sized crumbs. In a similar way, work with the cooked vegetables and cream cheese.

The spinach will need more work. To distribute it evenly to the dough, separate the leaves that are cooked properly.

Pour a half cup of the milk and mix it into your mixture thoroughly. Add the remaining milk as required. Be careful not to make the dough wet. But, the consistency should make it easy for you to knead it. Knead the mixture three times and then form a big ball. Make sure you do not overwork on the dough as it can turn tough. 

Lightly distribute flour across a work surface and place the dough on top of it. Make sure that your work surface is clean and free from any item. Press and pat it to form a disc that is around ¾ thick. Divide the disc and cut it into 8 portions.

Brush the above area of each veggie scone with the beaten egg and put them on the baking sheet about an inch from each other.

Bake for around twenty minutes.

Serve the scones warm.
Recipe #2: Garden Strudel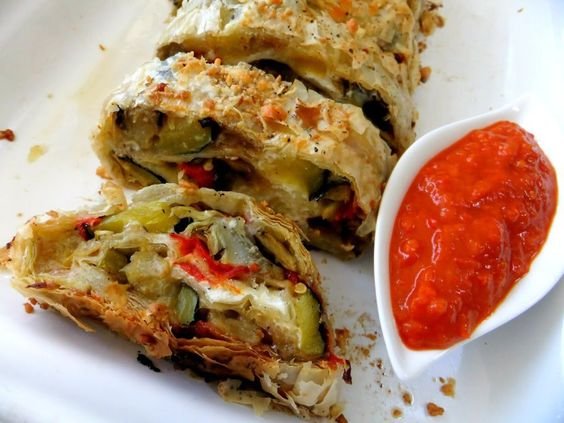 Strudels are popularly made with a mixture of spice and meat. But, not everybody knows that they can also be prepared with your favorite vegetables and some cheese. It's really up to you which vegetables you want to add as well as the types of cheese. If this sounds a good idea for you, here is how a garden strudel is made:
Ingredients:
1 pc eggplant (large)

2 pcs zucchinis

1 pc onion (small)

1 pc red pepper (large)

Phyllo dough

3 pcs garlic cloves

Olive oil

A half bag of artichoke hearts (frozen)

Romano cheese

Fresh mozzarella

Black pepper

Grated fontina

Grated cheese
Directions:
Roast the vegetables at an earlier time.

Dice them, drizzle with olive oil, salt, and pepper, and roast it at 425F until golden and tender.

An essential thing you need to keep in mind when it comes to phyllo is you have to cover it using a damp cloth while layering it. Use about six sheets, with each sheet sprayed with olive oil. Also, sprinkle some Romano cheese (grated) on each layer.

Upon reaching the sixth sheet, spread the vegetables all throughout while leaving around 2" border all the way around. Spread the combination of your preferred cheese above the vegetables.

Fold the border ends upward then roll up carefully beginning on the longer side until it transforms into a log.

Spray olive oil above the log with black pepper and grated cheese. Then, bake for around twenty minutes at 400F until it becomes golden.

Allow the strudel to cool for a while before slicing it. Serve with some dipping sauce. A great recommendation is some marinara and roasted peppers that you can mix in your food processor.