The hugely popular Netflix series "Tiger King" might be about Joe Exotic- the zoo owner who went rogue and got convicted for plotting to murder his rival Carole Baskin. However, the fans of the show are equally interested in the Lowe couple- Jeff and Lauren, who took over the Greater Wynnewood Exotic Animal Park, also called as G.W.Zoo, when Joe Exotic got arrested.
Jeff is one of the major characters in the docuseries that depicts in detail the events preceding Joe's arrest. Jeff became involved in G.W.Zoo when he got enrolled as a partner along with Joe Exotic.
Although he started as Joe's partner in running the zoo, Jeff played a major role in helping the FBI in tracking down Joe. His wife Lauren isn't such a prominent character in the series. But her role has been much more substantial than what we witnessed as part of the series.
Jeff and Lauren now co-own the G.W.Zoo. They have been staying in Oklahoma ever since they took charge. It wasn't difficult for Lauren to get used to the new engagement, as she has been an ardent animal lover always.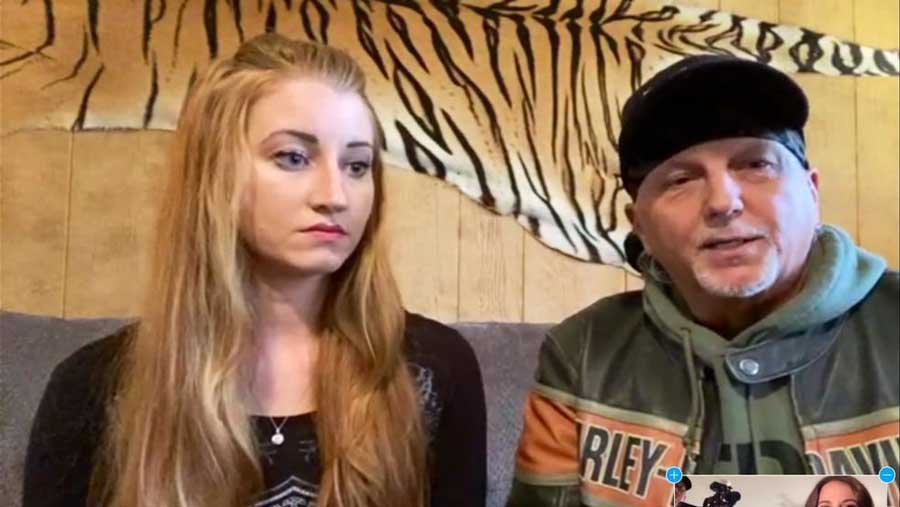 Lauren Lowe – What do we know about her?
Lauren is originally from Columbia in South Carolina. Her parents are Frank and Gwen Dropla. Frank, her father, is an analyst at a State Rehabilitation Center while her mother Gwen is a housewife. Lauren has a sister Nicole Lee Pakileata.
She had her schooling from A C Flora High School and got graduated in the year 2011 from Coker College in South Carolina.
Her career started as an employee at one of Jeff Lowe's retail stores. Jeff was already a successful entrepreneur by then. Quite interestingly, it was through one of Jeff's entrepreneurial engagements that they met each other. Common interests like wildlife and music brought Jeff and Lauren together despite having a 30-year age difference between them. They dated for a while before getting married in the year 2017.
Jeff Lowe proposed to Lauren in grand style on the Las Vegas strip. The marriage was a grand event held at the MGM Hotel in Las Vegas on the 4th of July.
Before meeting Jeff, Lauren used to stay in Beaufort, South Carolina.
Lauren is 29 years old. Just like Jeff, she is also quite interested in taking good care of exotic animals that belong to the zoo. This common interest is one major reason why they are happy together. She has even said once that they consider these animals just as their children. Lauren isn't as experienced as Jeff, who is already a very successful businessman. Despite this, she has been extra focused on getting the zoo back to its prime or even better than how it was when Joe used to run things. Lauren is deeply involved in the day to day operations of the zoo.
What keeps Lauren busy these days?
Though she maintains a low-key profile these days, she keeps herself busy working towards the opening of the Oklahoma Zoo- a jointly managed venture by Jeff and Lauren. The Oklahoma Zoo was slated to be open for the public in 2019, but due to the COVID situation, the opening ceremony has been postponed.
Lauren has been posting pictures on the Instagram page named "tigerkingpark". In most of these, she is seen with the exotic animals of the G.W.Zoo. One such recent picture has her posing with a white tiger named Grace.
Lauren was pregnant during the time of the docuseries. She is now mother to a baby girl. The girl is named Sarah Evelyn Lowe. Lauren is now settled in Wynnewood.
Jeff and Lauren are also quite engaged in the daily operations of the G.W.Zoo, which is currently open to the public. Along with taking care of the animals, she is also assisting Jeff on the operational side. Another Insta picture has her posing with Jeff and one of the animals of the zoo. The picture has a caption "Be thankful for what you have". From these pictures and the upbeat captions, it is quite evident that she is enjoying her time. Looks like she is quite into doing what she likes and that is all we need to make the difference.
Will there be a second season for the docuseries "Tiger King"?
Now that the principal character of the first season is in jail, does the series have some relevance? Considering the huge success of the first season, we cannot rule out the chances of yet another season. Though Joe is arrested, the fans of the show are equally interested in characters like Jeff, Lauren, Carole, and especially the future of the G.W.Zoo.
One thing is for sure. If the docuseries gets into another season, Jeff and Lauren will be the prominent characters as there is already a kind of buzz around these two among the fans of the show.