Who Is Young Thug?
Young Thug is a popular American songwriter, singer, and rapper. He is well-known for his unique fashion and vocal style. He was initially recognized for his collaborations with notable rappers, such as Gucci Mane and Birdman. Among his most famous singles are Danny Glover and Stoner. He is also popular for his appearances in Tyga's Hookah, Rich Gang's Lifestyle, and T.I.'s About the Money.
Personal Details
Celebrity Name:

Young Thug

Full Name:

Jeffery Lamar Williams

Gender:

Male

Birth Date:

August 16, 1991

Birth Place:

Atlanta, Georgia, US

Age:

28

Height:

1.91m

Weight:

70 kilos

Nationality:

American

Sexual Orientation:

Straight

Status:

Engaged

Wife:

None

Girlfriend:

Jerrika Karlae

Children:

6 children – 3 sons and 3 daughters

Profession:

American songwriter, singer, and rapper

Net Worth:

$5 million
Early Life
On August 16, 1991, Young Thug, originally named Jeffery Lamar Williams, was born in Atlanta, Georgia. He is from Sylvan Hills, Atlanta, and has 10 other siblings. However, he grew up in the neighborhood of Jonesboro South Projects. Other known artists from this place are Ludacris, 2 Chainz, and Waka Flocka Flame.
According to Young Thug, he was expelled from school during his sixth grade due to breaking the arm of his teacher. He was also spent four years in juvenile prison.
Personal Life
Although he does not share too much of his personal life, it is known that Young Thug has six children – three sons and three daughters. It is not confirmed but he was either 14 or 17 when he had his first child.
In April of 2015, he and his girlfriend, Jerrika Karlae, got engaged. Jerrika manages a swimsuit line.
In 2016, Young Thug purchased his first own home after releasing his mixtape, Jeffery. It is located in Buckhead, Atlanta, covers over 11,000 sq. ft. and has a 4-car garage, theater room, 11 bathrooms, and 6 bedrooms.
Career
Young Thug started his career in 2010, after appearing on the song, She Can Go, by TruRoyal. After he launched the first installments of his mixtape, I Came From Nothing, Gucci Mane noticed him and signed him into his label, 1017 Brick Squad Records. In 2013, he released his fourth mixtape, 1017 Thug, which was considered as the best mixtape of that year. Its most famous song is Picacho. Due to the success of his music career, he will then later released more singles, like Danny Glover and Stoner.
While still in contract with 1017 Brick Squad, he landed another deal with Rich Gang, run by Birdman. In 2014, he recorded numerous songs with Metro Boomin and Kanye West including EWW and The Blanguage. 
In 2015, he released two more mixtapes, Slime Season and Slime Season 2. In 2016, more mixtapes were released titled Jeffery, Slime Season 3, and I'm Up. In that same year, he collaborated with Drake in hit songs, such as Sacrifices and Ice Melts. He also collaborated with Calvin Harris with the song, Heatstroke.
In 2017, with his successful streak, he launched another mixtape titled Beautiful Thugger Girls. He made more collaborations with other artists, such as Future and DJ Carnage.
In December 2016, Young Thug participated in the campaign #fightpovertyagain. In the next year, he donated the sales of his sold-out concert to Planned Parenthood.
Legal Issues
Ever since his music career started, Young Thug had several problems with the law. In 2015, he was included in a lawsuit filed by a bus driver of a tour bus, who decided to sue Birdman, Young Money Records, and Cash Money Records. This was due to a tour bus for Lil Wayne was fired by people known to be members of the Bloods Gang.
In 2017, he failed to show up at a concert at Sahlen's Stadium, which he already signed a contract for $55,000. In that same year, he was charged for the possession of guns, cocaine, and marijuana. In September 2017, he encountered problems with the law again for the third time. He was arrested for the same charges, the possession of guns and drugs.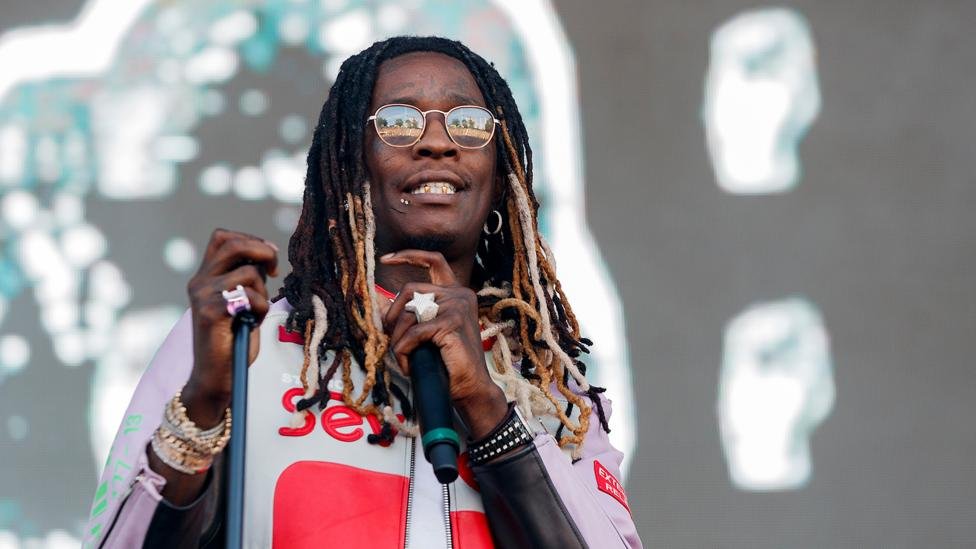 Awards and Achievements
He was featured in Camilla Cabello's song, Havana, which topped the Billboard Hot 100 Charts. He won a Grammy Award for Song of the Year for his contributions to the song, This Is America, together with Ludwig Goransson and Danny Glover. Furthermore, he won an MTV Video Music Award for Best Editing in 2017. He also received nominations in the BET Awards and BET Hip Hop Awards.
Total Net Worth 2020
What is Young Thug's net worth? Well, it is believed that he has earned a total of $5 million. Most of his wealth came from his music career. He has released many mixtapes, all of which are considered successful. He has also performed in multiple tours and concerts, which help add in his net worth. Moreover, he also writes songs for multiple artists.