Amidst the noise that baking soda and vinegar make, people often tend to ignore an equally efficient member of the cleaning family, which is borax. This naturally occurring mineral is a white crystal that dissolves pretty easily in water. Also known as Sodium Borate, borax is a salt of boric acid. Because of its highly alkaline nature, Borax is known to cause irritation to your skin and eyes if used incorrectly. Borax is a useful ingredient when it comes to DIYing your house cleaning needs, and is as effective as the expensive store brought cleaning agents, and sometimes even more effective. Let us look at some of the handy borax uses when it comes to cleaning your house.
Clean your dishwasher effortlessly
If your everyday cleaning detergent is not giving you the desired results, you can spruce it up by adding borax to your cleaning routine. What you can do is sprinkle some borax (approximately ¼ cup) at the bottom of the dishwasher. Then, you can go ahead with adding the usual detergent to the dispenser. Let the dishwasher do its work while the borax does its. You can find your dishwasher much more cleaner this way.
See your fruit trees grow faster
Boron is a trace mineral, which is essential for the healthy growth of the fruits and seeds in the fruit trees. Boron also helps in the proper growth of the cell walls also. This is why adding borax to trees every once in 3 to 4 years can help in their growth. You can add a few tablespoons of borax to a young tree and a whole cup of borax to a fully grown fruit tree.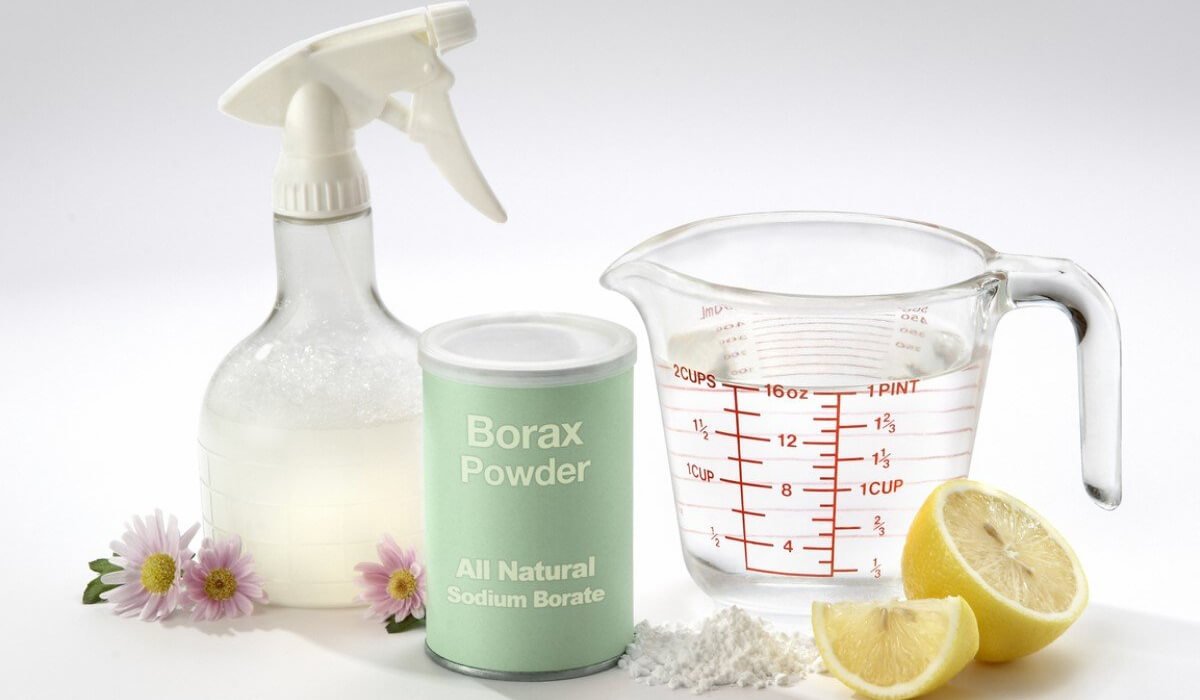 Helps clean your carpets effectively
Carpets get dirty so easily that there is a high chance for you to ruin them if not cleaned the right way. When using DIY hacks, be careful to use the right quantity and right technique to clean them. You can mix half a cup of borax and half a cup of baking soda and add a bit of essential oil to the mixture. Sprinkle it on top of the carpet and leave it for some time. You can vacuum the whole carpet and it will be effectively deodorized. If still the smell persists, you can ask professional carpet cleaners to help you with the same.
Tile cleaner
Tiles in your bathroom and kitchen can get pretty dirty, especially the grout. Take one part of borax, then two parts of baking soda (1:2). Add enough vinegar to the mixture to make it a paste. This paste can be applied to the tile and grout and can be scrubbed in. You can wash it off after 15 minutes to get a clean grout and a cleaner tile.
All-purpose cleaning spray
A cleaning spray comes in handy when it comes to cleaning your kitchen countertops, messy appliances, and so on. So to make one on your own, all you need is some borax, vinegar, and dish soap. You can add one teaspoon of dish soap and four tablespoons of vinegar into four cups of hot water. Add in two teaspoons of borax and give this mixture a good shake. Pour it into a spray bottle and voila! You have your very own all-purpose cleaning spray.
Keeps pests and weeds at bay
To keep any troublesome pests at bay, make a mixture of equal parts of borax and sugar and sprinkle it wherever you suspect a pest infestation. You can also use borax as it is, to destroy weeds. Just sprinkle them over the weeds to kill them.
Your flowers can stay fresh for long
For your fresh-cut flowers to stay that way, it is essential to remove the additional moisture which might cause them to wilt away soon. If you have cornmeal at home, mix one part of borax with two parts of cornmeal. Add it to the bottom of the vase or container where you will be placing your flowers. This will help the flowers stay fresh, for at least two weeks.
Fridge can smell so much better
You know how quickly a fridge can get dirty. Spillage of food happens on a daily basis, which means that you have to clean them frequently to maintain the freshness of the fridge. You can take one-quarter of warm water and mix it with one tablespoon of warm water to make a cleaning solution, effective in cleaning the grime and dirt in your fridge.
Rust removal is now a piece of cake
Removing rust can be a time-consuming process. But it needn't be that way if you use borax to clean them. Mix one tablespoon of lemon juice and two to three tablespoons of borax. Add enough water to make a paste, apply it on the rust and scrub away. You can see the rust getting removed easily.
No more smelly mattresses
Sweat can cause your mattresses to smell odd. If your mattress also smells funny, try rubbing a paste of borax onto the problematic area. Let it sit until completely dry and then vacuum it out. This is ought to solve the problem.