Going on a caravan trip can be an incredibly fulfilling experience. Whether you're traveling solo or with friends and family, there's nothing like the freedom of the open road and the ability to explore new places on your own terms.
But if you want your trip to be as you dream it to be, you need to make sure that you have the right equipment on hand. Here are some essential caravan equipment items that you should consider bringing along on your next trip:
A Durable Awning And An AFK
To extend your living space, pack a sturdy caravan awning. It will provide some much-needed shade on hot days, protection from harsh elements, and a sense of privacy. Look for an awning that's easy to set up and take down and offers plenty of space for your needs.
For guaranteed security, toss in an anti-flap kit (AFK). An AFK will keep your awning in place during windy conditions. Consider a product known for its durability and ease of use. Hardcore outdoor buffs from Campsmart can pitch a line of AFKs that can deliver on that front.
A Good-Quality Water Pump
When you're on the road, you can't always count on having access to clean drinking water. That's why it's important to have a reliable water pump on hand.
Look for a pump that's easy to install and can handle a range of different water sources—lakes, rivers, or even wells. It's even better if the pump can withstand harsh conditions and rugged terrain, such as submersible types. This feature guarantees that it will work when you need it most.
A Powerful Generator
If you plan to use any electrical appliances on your trip, a reliable generator is a must-have. To choose the right generator, look for one that's portable and easy to start, especially if you're traveling in cold weather.
Also, consider the total wattage needed, its rated output, and fuel type. Propane generators are quieter and more fuel-efficient, while gasoline generators might produce more power. Solar-powered generators are also worth considering. They may not be as powerful as traditional generators, but they are sufficient for powering small appliances and electronics.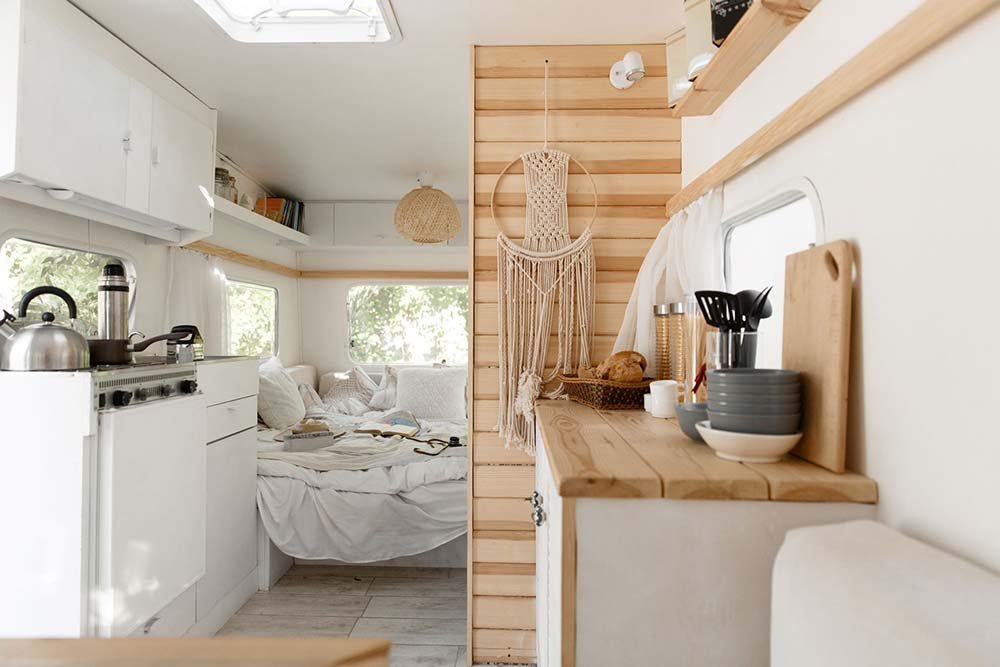 A Sturdy Set Of Leveling Blocks
When you're parking your caravan on uneven ground, it's important to have a set of sturdy leveling blocks on hand. Look for blocks made from durable materials that can support the weight of your caravan.
Some leveling blocks are made of plastic, while others are made of wood or metal. Plastic leveling blocks are the most common type, but they can be less stable than wooden or metal blocks.
A Reliable GPS
When you're exploring new places, it's easy to get lost. A reliable GPS can help you find your way to your destination, even if you don't have a cell signal.
Go for a GPS device designed for off-road use (some regular navigation systems don't have detailed maps or features required for navigating in remote areas). Carefully examine if it provides accurate information about traffic, weather, and points of interest.
Another crucial factor is the size of the gadget. Don't buy a mountable device that is so big it obscures your view of the road or so small that it's difficult to read the screen display from a reasonable distance.
Quality Bedding
Sleeping comfortably is key to getting pumped up for the next item on your itinerary. So make sure you settle for quality bedding to keep you warm and comfortable throughout the night. Being outdoors shouldn't be a reason to skimp on quality sleep.
Look for bedding made from breathable materials that are easy to wash and stand up to regular use. It's also important to consider the size of your bedding to be sure it fits your caravan's bed properly. The right-size bedding prevents any discomfort from bunching or slipping during the night.
A Portable Toilet
When nature calls, it's best to have a convenient way to answer. A portable toilet is a must-have item for any caravan trip.
There are primarily two types of portable toilets: cassette toilets and composting toilets. Cassette toilets use a holding tank that must be emptied regularly, while composting toilets convert waste into a natural fertilizer.
Generally, it's advisable to choose one that's easy to install, put away, and clean. But ultimately, whichever you choose boils down to personal preferences.
A Set Of Basic Tools
It's always a good idea to carry a basic repair kit in the car—an emergency set with screwdrivers, pliers, and other tools that can help you if something breaks down.
A Well-Stocked First Aid Kit
Accidents can happen when you're on the road. Be prepared by keeping a first aid kit in your car that includes bandages, antiseptic, and pain-relief medicine.
Wrapping Up
Packing your caravan for a trip means finding the right balance between comfort and necessity. Invest in these items to make your trip as successful as possible. Remember to always pack smart and to put safety and comfort first. With the right equipment on hand, you can enjoy all the freedom and adventure that a caravan trip has to offer. Happy travels!