A lot of women today become more in love with the outdoors. They aim to learn various activities so they can get in touch with nature. One of the most famous outdoor activities that both men and women are interested in is fishing. Not only does it let you be with nature but it can also serve as therapy, relaxation, and stress-reliever from a busy lifestyle.
One of the great things about fishing is that it's quite easy to learn. Some women think this activity is only for men, but the truth is, any woman can be as great with fishing.
This post includes the basic tips you need to learn so you can be on your way and finally go fishing with your loved ones!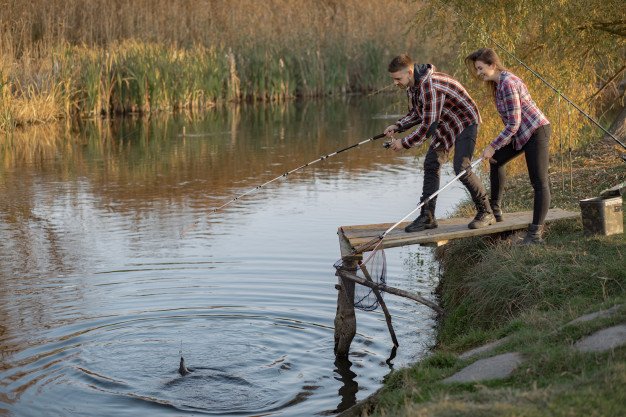 Your Basic Kit
Another great thing about fishing is that it's not an expensive sport. There are many beginner's kits available anywhere that offers fishing supplies. These kits will generally contain a fishing pole and some basic supplies.
A Woman's Fishing Pole
Choosing the right fishing pole can be a challenging task. But, what you should keep in mind is that you have to keep things simple. Some are easily swayed by poles that come with whistles and bells. Of course, these are good finds but they may be complicated to operate.
If you are new to fishing, then a medium action pole/rod is recommended. It can go for a long time and you can use it to hook both small and big fish.
The action refers to the bendability and thickness of the rod. Light action is for smaller fish, while heavy action is meant for bigger fish. There are many kinds of fishing rods so it's best that you familiarize yourself with them first before buying your first one.
Tackle Box or Basic Kit
Your basic kit should include the following:
Small first aid kit – For any outdoor activity, a small first aid kit is a must. Even how careful we are, we can't be too sure that no accidents will happen. In addition to your first aid kit, don't forget to pack some sunscreen.

Needle-nose pliers – These pliers are used to take out the hooks from the fish once you catch them.

Some lures – There are countless lures you can get, such as spoons, spinners, lures that act like fish (minnow), and topwater lures. The minnow lures appear much like a minnow, which bigger fish love to eat. So, lures are really handy!

Plastic worms – These are available in different colors. Many fishing enthusiasts will tell you that if you want to catch bass, you should lure it with purple plastic worms. But, it's better if you have different colores ready. This way, you can experiment and find out which ones work best out for you. Plastic worms are great if you cannot stand actual lures.

Sinkers – A hook with a worm is lightweight and will not be enough to sink in deep. To address this, sinkers add more weight to the line; therefore, allowing it to sink enough to the bottom.

Floaters or bobbers – These things will let you know once the fish bite. When the fish bites the hook, the floaters or bobbers will go up and down.

Extra hooks – Hooks are important whether you have a plastic or real bait. Bring with you various hooks so you will have the right size available for whatever fish you are trying to catch.

Line cutter – For cutting the line, fingernail clippers or a small knife will do. 

Extra lines – Extra lines are useful in case you snag a line. Buy the biggest line that your pole can manage. There are various kinds of lines, such as fluorocarbon, braided, and monofilament, which is durable and simple to work with.
Fishing License
A fishing license is required for every state in the US. For example, in Michigan, you need to purchase a fishing license annually that is about $26. There are different prices – combo hunting/fishing, non-resident, and senior. If you are more than 17 years old, you need to have a license.
In addition, there are rules and guidelines for the number, size, and type of fish you will catch. Therefore, it's essential that you read and learn the requirements in your location. You can find the information on the Department of Natural Resource website of your state.
The Right Places to Fish
Ponds and lakes are great places to catch fish. You can be on a dock or on the shore. Find places that give you natural cover, such as fallen trees, rocks, and near boating docks.