The Toyota Landcruiser is one of the most ubiquitous vehicles in Australia, no matter whether you're downtown or driving across the vast outback. It's one of the most popular 4x4s, and for all the right reasons. While it comes with a high price tag, it's comfortable, spacious, provides great driveability on and off the road, and it's highly customisable, allowing you to improve its capabilities even further.
There's no shortage of 4×4 truck accessories for the Landcruiser, as there are countless aftermarket parts and accessories manufacturers who specialise in producing high-quality parts and accessories for every Landcruiser available.
If you're a proud owner and want to make sure your Toyota Landcruiser is protected for your first adventure into the outback, then you should consider adding a couple of accessories to ensure you make it back to the urban jungle unscathed.
Key Protective Accessories
Toyota Landcruiser Bull Bars
The bull bar is considered the king of 4×4 truck accessories, for a couple of reasons. First and foremost, it offers protection to the most vital parts of your vehicle, the majority of which are located under your bonnet. All the parts that make your Landcruiser function properly are quite fragile, and the harsh Australian terrains can be unpredictable, and you never know when you'll run into something that will leave you stranded.
This is especially true if you're touring the outback, where you'll frequently come across kangaroos and other animals. Kangaroos are notorious for crossing the roads in some parts, and if you hit one, your Landcruiser's front end will end up getting totalled. If that happens, you'll find yourself stranded in the middle of nowhere, with no help in sight. This can completely ruin your experience, and it can even be life endangering.
When browsing the range of 4×4 accessories, you'd notice that the Toyota Landcruiser bull bars on the market are generally made of metals or plastic. Plastic bull bars are mostly for aesthetics, which is why I'll only discuss the popular metal options. The two most popular metals that bull bars are manufactured from are steel and aluminium.
Both options provide optimum protection, with aluminium models being lighter in weight than their steel counterparts. For this reason, aluminium is the more popular option for those who take off-roading seriously. The lighter weight doesn't impact your fuel economy as much, so you can get more mileage out of a full fuel tank. On the other hand, steel bull bars often come with improved corrosion-resistant properties, and they aren't prone to damage should you drive in humid, coastal environments.
No matter what type of bull bar you go for, it's important to also pay attention to the features it comes with. In case you didn't know, bull bars can serve as a mounting platform for other accessories, including lights, winches, UHF antennas, etc. Out of all these features, a winch mount with rated tow points is especially beneficial to have. This is simply because you might find yourself stuck when off-roading, and you'll need an easy and reliable way to pull yourself out. Additionally, having this feature on the bull bar means that the product has been inspected, tested and approved by a third party, ensuring quality and performance.
Toyota Landcruiser Side Steps
Side steps, as their name implies, go along the sides of your Landcruiser, just below the doors. However, they do more than serve as a simple step to help you get in and out of your vehicle. They offer side protection, which can come in handy when you're trying to go over obstacles at an awkward angle.
This can especially be beneficial if you're into rock crawling, where these types of manoeuvres are common. Just like bull bars, side steps can be made from various metals and plastic. Again, metals are your best option. The most popular metal used for manufacturing side steps is steel, and stainless steel, in particular.
The reason behind this is simple – stainless steel is incredibly durable and completely rust- and corrosion-resistant. Side steps often come with some sort of engraved pattern on them to improve traction and promote slip resistance.
Toyota Landcruiser Bash Plates
Bash plates are one of the most underrated protective 4×4 accessories. They are installed on the underbody of your vehicle, and they protect it from impact when driving over rocks, branches and other sharp, heavy objects. Just like your vehicle houses the majority of its vital, fragile parts under the bonnet, there's a fair amount of fragile, yet important parts located on the underside of your Landcruiser, including the gearbox, differentials, exhaust pipes and many more. Bash plates are generally made of heavy-duty steel to offer utmost protection.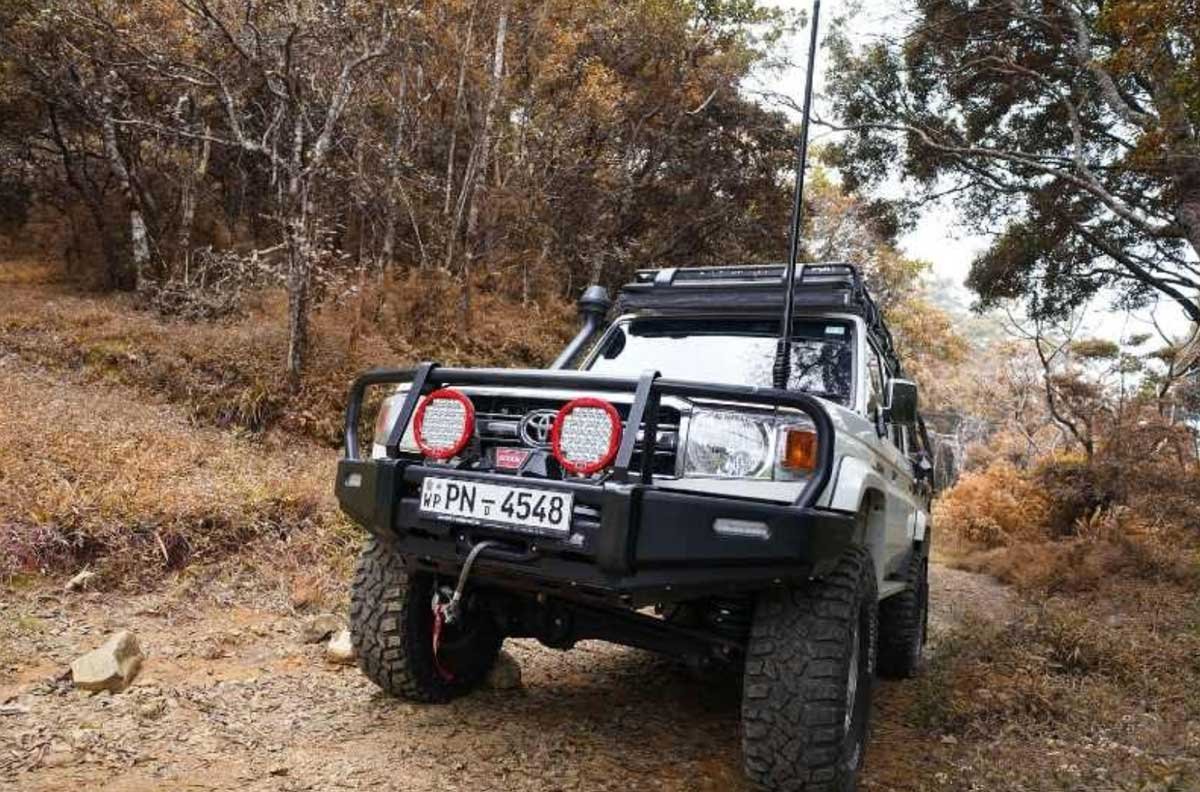 Weathershields and Door Visors
Weathershields and door visors protect your windshield from splashes from insects, as well as airborne debris, rocks, etc. Door visors do the same, plus they prevent wind from going into your passenger cabin, making for a more pleasant driving experience. This means that you can still drive with your windows open, but you can also enjoy music and talking to your family or friends without noisy wind obstructions.
Additionally, door visors prevent rain from going into your cabin when driving with your windows open. This means that you don't have to turn on the air-con if it's raining outside and you want some fresh air. Weathershields and door visors are inexpensive, yet they do so much to improve your comfort and protect your interior. They're also easy to apply, and can generally be mounted in-channel or stick-on in a matter of minutes.
General Things to Consider When Buying Accessories
In order to ensure what you're buying is right for your vehicle, you should always pay attention to the model, make and year the product is intended for. This will not only ensure compatibility, but ease of installation as well. Furthermore, make sure the products you're buying are ADR approved, which is the Australian Standard for vehicle safety.
Additionally, make sure you're buying from a reputable vendor with a history of providing not only quality products, but service as well. These are just a few of the things you should pay attention to in order to ensure you're getting the best value for your money without compromising on quality and safety.