Who Is Migos?
Migos is a famous American hip-hop group that is originally from Lawrenceville, Georgia. In 2009, the rap group rose to fame and is made of three members – Quavo, Offset, and Takeoff. Many of their songs have topped US Billboards and has won various awards, such as MTV Awards and BET Awards.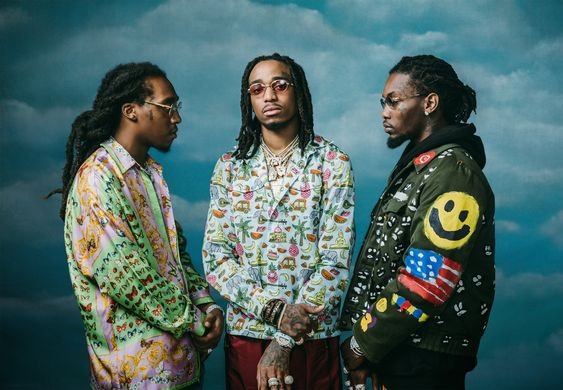 Personal Details
Celebrity Group Name:

Magos

Full Name:

Quavo – Quavious Keyate Marshall, Offset – Kiari Kendrell Cephus, Takeoff – Kirshnik Khari Ball

Gender:

Male

Age:

Quavo – 28, Offset – 28, Takeoff – 25

Birth Date:

Quavo – April 2, 1991, Offset December 14, 1991, Takeoff – June 18, 1994

Nationality:

American

Profession:

American hip-hop group – singer, rapper, and songwriter

Net Worth:

$100 million
Early Life
The rap group Migos was formed sometime eight years ago by Quavo, Offset, and Takeoff. Initially, their group's name was Polo Club. These three members are related together as Quavo and Takeoff are cousins while Offset is Quavo's nephew.
They knew each other since they were young and they raised by Quavo's mother. Because of this, all three of them have created a close bond together. Quavo is the eldest in the group and attended Berkmar High School. Little is known about Takeoff's and Offset's early lives, but it is known that Takeoff, being the youngest in the group, was raised by a family of musicians.
Personal Life
There was a rumor that Takeoff was dating Katy Perry sometime in 2017; however, he denied all of it. Meanwhile, Offset has dated Cardi B for a long time and now is the proud husband of the fellow rapper. For Quavo, he is known to have dated various women. From 2014 to 2015, he dated Chinese Kitty; from 2016 to 2017, he dated Lira Galore and Karrueche Tran; in 2017, he had a relationship with Iggy Azalea; and in 2017, he dated Bernice Burgos but broke things off just a year after.
Career
In 2009, the trio formed the group Polo Club, but later changed it to Migos, which is the final name of their group. Although they have been together for a long time, their rap group rose to fame in 2017. Their first album, Jug Season, was released in 2011. The following year, they launched their second album, No Label. They started to get recognition when their song "Versace" was released in 2013. It reached the #99 spot in the Billboards.
After this, Drake noticed their talents and later made a remix of the song together. The song was a hit and topped many charts in the US and received various awards.
In 2014, they released another album titled No Label 2, which was a true success, selling countless copies worldwide. Some of their hit songs include Bad and Boujee, Motorsport, Slippery, Cocoon, Look at My Dab, and Fight Night.
They made several collaborations with other famous artists, such as Drake, Cardi B, Rich Kid, Young Thug, and more.
Aside from their music career, they also got the chance to show off their acting skills. They were featured in the movies Bando in 2014 and Atlanta in 2016.
Awards and Achievements
In their entire music career, Migos has gained a lot of awards. Some of these are MTV Video Music Awards, Billboard Music Awards, BET Awards, and BET Hip Hop Awards.
Total Net Worth 2020
To date, Migos is known to have a total net worth of $100 million. The majority of their wealth came from their music career – by selling millions of copies and touring. They also endorse various brands and promote merchandise through their social media accounts.