The weight of the fly fishing rod does not mean the actual physical weight of it. It means the weight of its line; specifically, it refers to the line's first 30 feet grains weight. You will find several weighted fly rods that work differently. In this article, we will talk about what is an 8 weight fly rod good for.
Of all flyweight rods, 8 weight fly rod is the most versatile that can catch different sized fishes. It can handle high winds, big flies, bushwhacking, quick casts, chasing boats, etc. To know further in detail about an 8 weight fly rod, keep reading this article.
The 8 Weight Fly Rod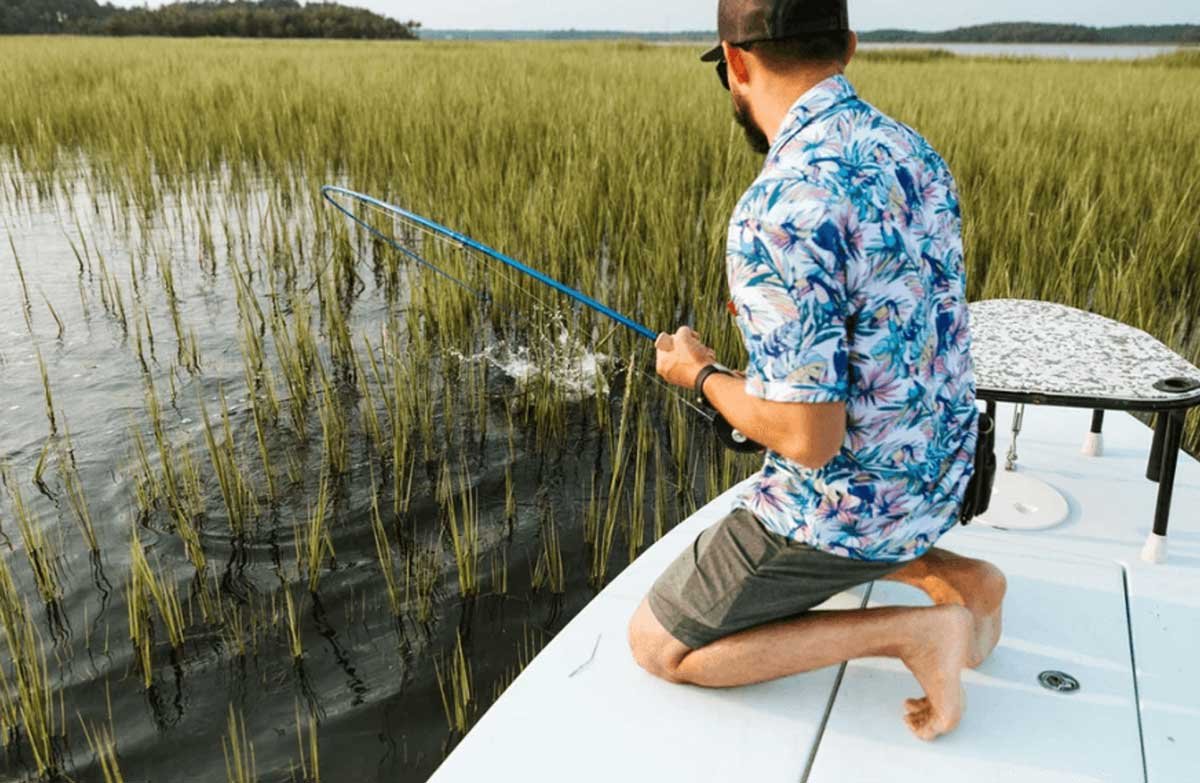 In fly fishing, 8 weight fly rods are mostly well known for use in heavy freshwater and saltwater. They can handle all types of flies, lines, and wind. These rods are very powerful and stiff that can turn over the heavier sinking line. On the other hand, they work with enough sensitivity for delicate presentation with the lighter flies.
That means they will allow you to handle both heavy or light lines and flies. These rods are very popular to target the bonefish, bass, large trout, carp, pike, snook, salmon, redfish, steelhead, etc. 8 weight fly rods can provide faster action in windy conditions.
What Is an 8 Weight Fly Rod Good For
Rod choice for fishing depends on several things; to know all these [Click Here]. In this stage, we discussed what is an 8 weight fly rod good for.
Action
Action means where the rod bends while applying pressure. You will find a massive difference of action in every rod weight. Every rod within the line up provides different actions. There are three specifications for action such as slow, moderate, and fast. With slow action, the rod's bottom third bends down.
The rod bends on the middle to top half with moderate action. Lastly, the rod's top third will bend with fast action. You can go with all these actions using an 8 weight fly rod. Fast action 8 weight rods are generally stiffer, provide more line speed, distance, load quickly, and are able to cut through the wind. You can get a slower load to lob out heavy flies and more manageable casting with an 8 weight moderate rod.
Presentation
If your technique is good enough, then the 8 weight rod can generate high speeds while fishing. Though most of the fishing gets done with short to medium ranges, the high lines can offer longer casts. This thing also enables you to fish in a windy climate. It's the ideal rod weight, especially when delicate presentations are required.
Fighting Ability
A good 8 weight rod can assist the angler in protecting the relatively light tippet. For instance, it's not a big thing to fish 10lb leaders with an 8 weight in saltwater. This rod can effortlessly catch and land the fish.
Handle and Grip
When it comes to an 8 weight fly rod, cork is the go-to material. Cork determines the efficiency of the handle and provides a good grip. Rubber cork is the best material to provide a smooth and firm grip.
8 weight rods come up with a comfortable handle that helps you in casting the lines accurately. It resists slip, so you can accurately hold the rod even with wet hands. It's necessary to have a full cork handle in your 8 weight fly rod.
Smooth Casting
Guides are the rod's eyelets by which the reel goes through. The guide's material and quality are also important as the rod's quality itself. This guide ensures that the lines can smoothly run through them. The ideal material for manufacturing these guides are chrome and ceramic.
The great thing is most 8 weight fly rods are designed with these materials guides. They allow you to make the line glide smoothly through them and provide an accurate cast.
Comfortable Casting
Casting is a part of the 8 weight fly rod where the reel takes rest. As they are made with aluminum, the reels are reliable and stronger. Strong material reel seats ensure holding the reel firmly in place. Most 8 weight fly rods do not have any wobbling; therefore, you can cast the lines accurately and comfortably.
Portability
Fly rods usually range from 6 to 12 feet in size which causes a real headache while taking them outside. Fortunately, with modern innovation, this trouble has now vanished. Now the portable fishing rod become highly portable due to their striping down system and several pieces.
8 weight fly rods can be stripped down into several pieces, which makes these rods much more compact to carry. Also, they are strong enough to fight the fish.
Durability
Corrosion is the biggest enemy of fishing rods. Therefore, to make the rod able to serve for years or durable enough, they come with corrosion-resistance. The line guides and reel seats are especially designed to resist corrosion.
The materials commonly used for the 8 weight fly rods are fiberglass, graphite, and carbon fiber. They offer strong resistance to abrasions caused by saltwater. It is unfortunate that this resistance will work for a certain period. So, you have to take proper care of the rod. Rinse the rod and dry it well after each fishing.
Final Thought
In a fly fisherman's lineup, an 8 weight fly rod is an essential tool. It's a versatile tool that you can utilize for multiple fishing applications. With this tool, you can target different sizes of species, trouts, salmon, bass, bonefish. Most 8 weight rods work as moderate-fast to very-fast action.
It allows to load fast, cut through the wind, and cover several fishing scenarios. The power and capability work pretty well in different situations. As the 8 weight fly rod is extremely popular among all, we showed what an 8 weight fly rod is good for. Hopefully, it clarifies your doubts and can nudge you in the right direction.